Tom Pickering
---
August 2019 - Side View
About the Image(s)
Specs: Nikon D5000, Tamron 60mm Macro, F27, 8-2-1/2s, ISO 200, Tripod, Room Light

Our next-door neighbor has this lovely hibiscus plant that blooms every summer and they allow me to pluck one or two per year for experimenting with. This was a 3 image HDR blend with 2 stops between.

Brought into Photoshop, toned with ACR, cropped to focus on the business area of the flower, removed the background with Topaz ReMask, blemishes removed with Spot Healing Brush and Patch Tool, and finally selective dodging and burning to give more depth. Suggestions?
---
This round's discussion is now closed!
18 comments posted
Angela Bonner

(Group 81)
Love the lighting and all the detail you have captured!! &nbsp Posted: 08/02/2019 15:35:00
Tom Pickering
Thanks for stopping by, Angela and your positive feedback. Can you think of anything I can do to make this better? &nbsp Posted: 08/02/2019 15:40:07
Angela Bonner

(Group 81)
I would be very happy with myself if I had taken this shot!!! Never seem to beable to get everything so sharp!! Having read a book by Harold Davis I think I am using too small DOF and need to close down the aperture and as you have done take multiple exposures.
The only thing I do wonder is as the lighting is so great whether having all the leaf in shot may have been better? Just an idea.
&nbsp Posted: 08/02/2019 15:55:30
Tom Pickering
I set the aperture 1 click larger than the smallest possible, which is f27 in this case. Of the 3 images in the bracket, the fastest was 1/2 second - obviously, a tripod is a must and I always use one with my DSLR as I have too much shake in my hand.

You're probably right about the leaf. The original image is horizontal and I was most concerned in not cutting off the blossom at the top, figuring that the leaf was of less importance to the composition. I wanted more than just the flower, but should have considered how the leaf would have looked better not cut off. Guess I should have switched to a vertical orientation so that both would be fully captured. d;¬{D &nbsp Posted: 08/02/2019 16:07:13
---
Stuart Ord
Well I've been extolling a nice, blurred background and/or foreground in macros, and this is the opposite. There's plenty of straight impact from this with its black background. I love the HDR, which to my mind is HDR done properly, enhancing the image without screaming "false colours". This is a lovely picture. I'm still jealous of your lens with such a small aperture yet good sharpness.
A thin white border would improve it, I think. &nbsp Posted: 08/09/2019 14:30:54
Tom Pickering
Thank you, Stuart. For me, HDR is all about giving me an extended control over exposure and the related elements. I have never liked the stereotypical HDR grungy "look". LR (& ACR which I use from within Bridge or PS), allows me to merge the bracketed images without applying any extra toning in a simple step. I don't do it as much as I used to, leaving it for those occasions where there's more shadow and highlight information than a single image can comfortably provide. &nbsp Posted: 08/20/2019 17:08:56
---
Dick States
This image has great depth and very sharp. Does it get any better than this? Tom, this just might be your best image ever. I'm not sure about the half leaf. I feel you could go without it, don't think it helps the image. I would like to see all the leaf or no leaf. See` what others think. I agree with Stuart, a thin white border would be nice. Great shot.

&nbsp Posted: 08/11/2019 20:52:48
Tom Pickering
Thank you Dick - high praise indeed from the master of flower macro photography! d;¬{D &nbsp Posted: 08/20/2019 17:10:46
---
Janet DiMattia
Tom - this is really beautiful.
My opinion - I rather like the lower leaf. It makes a triangle of green at the lower right and balances the triangle shape of the blossom.
Amazing detail in both the blossom and leaf. If the leaf were not there I would miss seeing and enjoying the detail in the veins. They compliment each other.
Yes - I am convinced leave the leaf as presented! &nbsp Posted: 08/12/2019 15:15:47
Tom Pickering
WOW! A vote for the leaf as is! I'm afraid we're in the minority, though. d;¬{D &nbsp Posted: 08/20/2019 17:11:59
---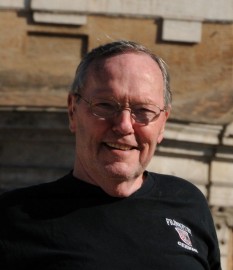 Bill Foy

(Groups 29 & 60 & 74 & 80)
Tom - I really like this image. The most interesting thing to me is that the flower is closed. I'm really hard-pressed to think of another hibiscus image I've seen that didn't emphasize the core of an open flower? &nbsp Posted: 08/14/2019 11:06:45
Tom Pickering
Thanks, Bill. I really liked the texture of the petals in contrast to the texture of the calyx (thick covering that protects the forming petals of new buds). &nbsp Posted: 08/20/2019 17:02:10
---
Salvador Atance
Magnific shot Peter, and very well described the plus by my friends. I'm sorry just to indicate an insignificant thing that could be done: to set the camera in a way the stalk resulted vertical. &nbsp Posted: 08/20/2019 12:51:34
Tom Pickering
Yes, Salvador, you are correct - I was simply too lazy to maneuver my camera to a vertical orientation. &nbsp Posted: 08/20/2019 16:58:48
---
Sandra Irwin
Love the side view, the fabulous clarity, and the black background! As for me, I might not have cropped the leaf at the bottom, but I don't know what it looked like. &nbsp Posted: 08/20/2019 16:36:50
Tom Pickering
The only part of the image that I cropped was a little off of the left - the rest is the original composition of the image. Please see my response to Angela above for my framing choice. Bottom line is I was too lazy to rotate the camera to a vertical orientation and felt the leaf was not as important as the blossom, but it did provide an additional element with the veins of the leaf. Live and learn! d;¬{D &nbsp Posted: 08/20/2019 16:57:44
---
Madhusudhan Srinivasan

(Group 67)
Super sharp image Tom. Crisp and clear. The contrasting colors are complimenting each other.
A tad move to your left may have given you the right angle to include some details within the flower. Irrespective, it is a great image... &nbsp Posted: 08/22/2019 03:33:35
Tom Pickering
I had plenty of shots showing the inside of the flower. This is one where I was exploring the outside, which is typically ignored largely. &nbsp Posted: 08/22/2019 07:57:55
---