Stuart Ord
---
August 2019 - Beeiness
About the Image(s)
I guess macro means many things, but pictures of ugly bugs don't attract me at all. Having said that, they are very good subjects as the unassisted eye doesn't see them well, it's just that I'm not a fan of creepy crawlies.

I was much impressed by the Charles Needle webinar I referred to last month. I spent an hour snapping flowers in our garden, many of which were being visited by bees and the like (these are not too creepy crawlie in my view, and I've got to say I like honey bees as I have four hives, trying to do my bit for the world-wide pollination problem). Anyway, three things I picked up from Charles were:
Using a long focal length lens can be a good approach
Doing "shoot through" shots to put a blurry frame round the subject can be nice
A small depth of field can be good. Not what most macro that I've seen seems to aim for, but why not?

As a results I've got lots of pictures I'd love to share here, but alas I've got to choose one. So here it is, what I'd consider to be a pictorial macro, if there's such a thing.

There were dozens of white tailed bumble bees on what might be (I'm no expert) a veronica. This has lots of upright shoots with purple flowers which die off from the bottom. The bees were having a feast, so dozens of pictures were taken. Good ones were fewer, but that's the beauty of digital, the cost is close to zero.

So I've now got a new favourite macro lens! Even at 400mm (800mm full frame equivalent) I was getting interesting shots.

Olympus OMD-E-M1ii, Panasonic 100mm-400mm lens at 100mm, f4, ISO 800, 1/3200 sec. (I'd had too many blurred ones!) with a 16mm extension tube, CWA, -0.3 stop compensation. Processed in Affinity photo, I reduced the clarity (the opposite of what I usually do, it had little effect on the bee and the flowers it is on but softened the rest) of the raw file, before converting to Photo Persona where I cropped, dodged the bee a little and vignetted the corners a little, sharpened and noise reduced. Next time ISO 400 or 200 perhaps, I should be able to hand hold better!
---
8 comments posted
Dick States
This is a great shot for this style of close-up photography. I very much like selective focus images and to my eye this is well done. Selective focus is not as easy as it might look. Like the colors and composition. The only thing I might change is cropping the right side off to remove the flower stock on the right. Nice image for sure. &nbsp Posted: 08/11/2019 20:42:09
Stuart Ord
Thanks, Dick.
Yes I did wonder about that crop as presently it is a second area of interest but I was chickening out of having so much out of focus if I did it. Charles Needle's photos are often more OOF than in focus, but I thought "walk before you run". If I just take off the right hand flower the bee becomes central, so here I've taken off a bit more to make it off centre again. &nbsp
Posted: 08/12/2019 01:24:57
Dick States
I'm not so sure now if I like it cropped or not. I just might like it better the way it was. See what others think. That's what this dialogue is all about. &nbsp Posted: 08/12/2019 07:16:30
---
Janet DiMattia
Stuart Ord
Thanks, Janet. That's an interesting change. I think I should re-take the photo if that is the preferred crop as the number of pixels will be getting small! Alas the flowers and the bumblebees have gone now for this year. The thing I don't like about the closer crop is that the wing is blurred by the flower on the right. So I've been looking through the original photos to see if there's a better one for this treatment, and been disappointed by an large (despite having had hundreds of photos!). This one seems marginally better for your treatment. I usually just use the burn tool to vignette in Affinity as I find the inbuilt ones are a bit too symmetrical. It doesn't add grey but just burns the colour where I choose, ie the corners and sides, and is less obviously a vignette. As for nature to open, yes I suppose so, but I'm not a nature photographer in the sense that competitions specify, so it's no problem to me. Pictorial nature s better in my view! &nbsp
Posted: 08/13/2019 01:36:18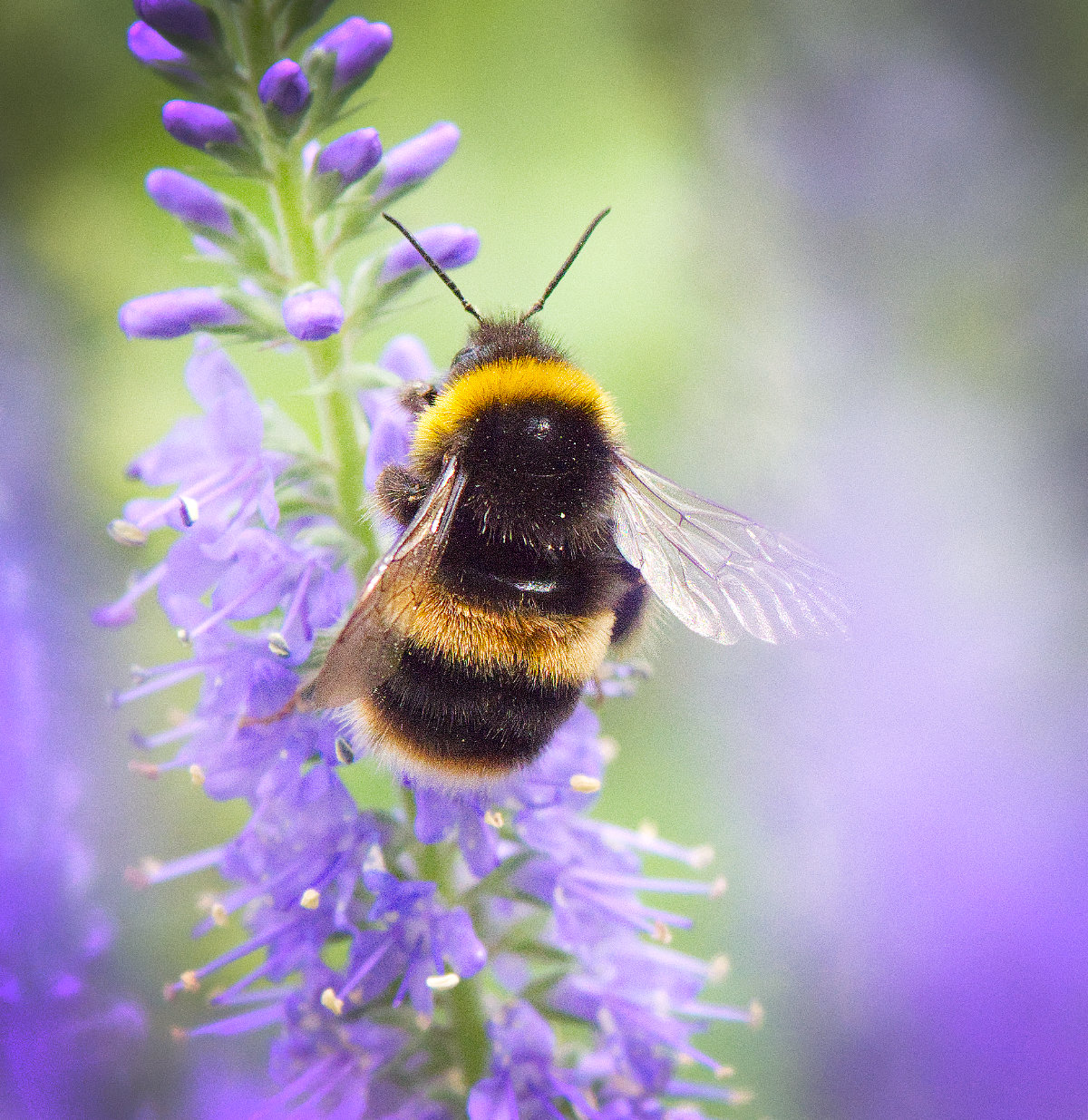 Stuart Ord
---
Janet DiMattia
Hi, Stuart.
I like the 2 versions you came up with. Don't delete all of you other images without giving them a close examination. I actually prefer pictorial nature nowadays. When I first got into nature photography the subtle informing nature story was well regarded. Now it seems that the most obvious or violent action is preferred. Trends come and go. It is a real challenge to get close enough to get the shot you want. Nature does not wait for you!
&nbsp Posted: 08/13/2019 05:33:07
---
Salvador Atance
Stuart,
I like very much the crop Janet made to your image, in case your subject was the bee. Your second and third bees were also beautiful.
I've found in Janet's crop version there is no distracting elements, the view can be fixed on the bee, exploring its work with the flower.
The third bee has an extra value because of we use to see bees from their back and this is a lateral view allowing to study head and legs. &nbsp Posted: 08/16/2019 06:15:30
---
Please log in to post a comment