Barbara E Miller, HonPSA, MPSA, EFIAP
---
November 2021 - Good to the Last Drop
Original
About the Image(s)
This was a 35mm slide that I took in Germany and I have always liked it but was never satisfied with the result I took it through a window so I know that it is never going to be as sharp as I would like. Is there any hope for it or should I cast it to memory?
---
This round's discussion is now closed!
8 comments posted
---
---
---
Mark Burgess
---
---
---
Dr V G Mohanan Nair

(Groups 16 & 68)
I liked the image, its action and composition. I tried a little on photoshop and and Topaz denoise. First the unsharp in photoshop followed by denoice in Topaz. Finally a little correction HDR toning in photoshop. The resulting image is given below. Is there any improvement expected? &nbsp
Posted: 11/02/2021 02:07:47
---
---
---
David Price
I think Mark has done an excellent job with the image. With the latest software we can do much more. I am not as keen on Dr V's as, for me, his version is oversaturated. You might consider cropping from the left to take the man from the centre. &nbsp Posted: 11/02/2021 12:08:42
---
---
---
Nick Muskovac
Barbara, The original slide is very noisy, as others say. I go think that Mohanan has made a very nice image from an old photo. &nbsp Posted: 11/02/2021 15:36:07
---
---
---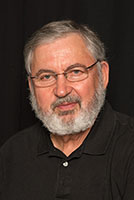 Isaac Vaisman M.D.

(Groups 4 & 58 & 59 & 72)
Barbara, It really surprises me as how sometimes we hold on to a particular image, even though we know for a fact that is not perfect, and still try, with little success, to improve it, and of course; knowing that we have a zillion of images in our library. As you can see here, and with the use of some magic (plethora of adjusting software) two different results were obtained to the likes of some but not for all.
At the end of the day, it is the nature of the beholder. &nbsp Posted: 11/02/2021 15:53:52
---
---
---
Candia Peterson
I like the image and the Topax clean up has worked well.

It has colour and character and I can see why it's a keeper for you. &nbsp Posted: 11/03/2021 13:49:02
---
---
---
Oliver Morton
---
---
---
Richard Siersma
I agree with most of the other comments, certainly, the noise was the biggest factor. Of the three submitted post-processed images I like Pete's image the most; however, I feel the red flowers could be toned down a bit. &nbsp Posted: 11/14/2021 09:34:06
---
---
---