Oliver Morton
---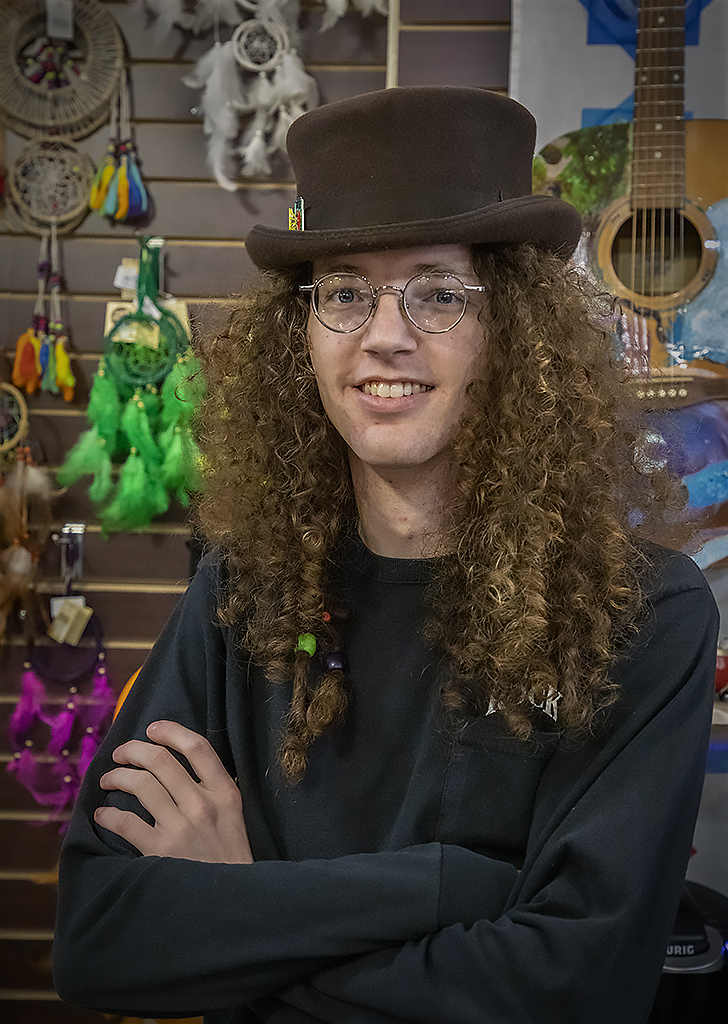 March 2020 - The Clerk.
Original
About the Image(s)
This photograph was made some time ago when I was in Asheville, North Carolina. I was curious about the fact that this store sold a large variety of merchandise, including marijuana (I don't "participate"). Frankly, the store and the storekeeper were wonderful. The man's smile, hair, hat and upbeat nature were marvelous. He was glad to have me take his photograph and, naturally, I sent him a copy.
My post-processing was simple. After color correction, I did a few lighting adjustments in Camera Raw then added a vignette using the Nik Color Efex Pro 4 vignette filter. Some minor cropping and trivial "cleanup" with Photoshop's clone stamp and I was done.

Data: Canon 5D4 with 24-105mm lens @ 56mm; 1/60 sec; f/5.6; ISO 6400.

---
7 comments posted
Randall Gusdorf

(Group 81)
Great white balance Pete. you got wonderful colors complimenting this guy, and his hair is awesome, and so wonderfully rendered. You might want to dull down, bring down the highlights of the green that is to his left, so it does not pull the eye away from the guy. Like the crop too, as it gives context, yet keeps the subject. &nbsp Posted: 03/05/2020 12:28:38
Oliver Morton
Thank you, Randy. It was almost impossible to take a bad photograph with this man as the subject and his shop for a background. I'll play with dulling/desaturating the green and see how it looks. I had left it a bit bright since I was amused at how it's shape mimicked his hair. But, you're right, it does pull one's eyes from his face.

Thanks again!

&nbsp Posted: 03/05/2020 17:49:03
Randall Gusdorf

(Group 81)
it does mimic his face and i get that. the colors throughout are wonderful, and the green goes well with the little green thing he has in his hair. wonderful hair he has and you captured. &nbsp Posted: 03/05/2020 17:51:52
---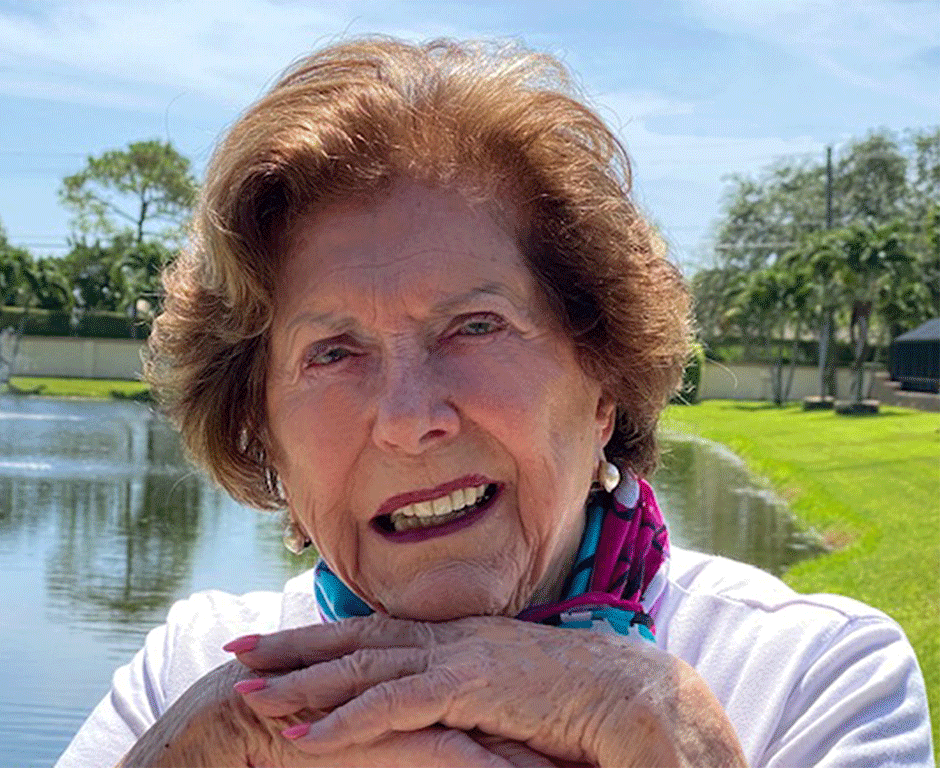 Barbara E Miller
Often the BG takes away from the subject but in this case it helps tell the story--an interesting and odd looking character surrounded by odd looking items. You made a marvellous presentation.The little green blob on his shirt, or in his hair, is only slightly distracting but could be removed. Super image Pete! &nbsp Posted: 03/05/2020 19:48:24
---
Stephen Mayeux
Pete, The image is very interesting but your story brings back thoughts of my time in the 70's. The first person I thought of was Arlo Guthrie. I had to play with the reduced highlights of the greens. I made a quick pass. I'm sure you could do a better job. Thanks for a flash back in time. &nbsp
Posted: 03/06/2020 16:39:06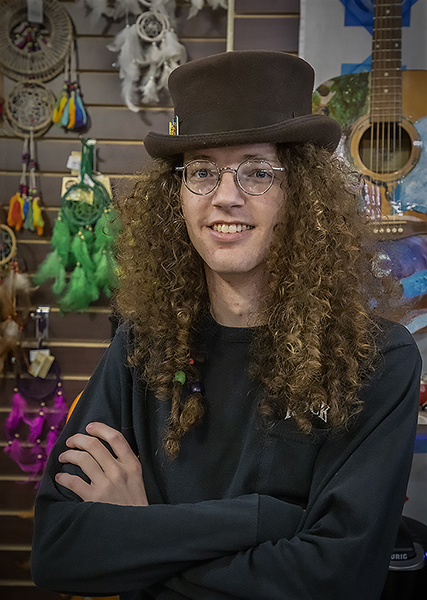 ---
Mark Laussade
I always appreciate a good portrait, because it's what I do the least. I agree with all that has been said. The darkened green works for me. The word "Rock" showing through his long hair is a nice touch &nbsp Posted: 03/06/2020 21:53:19
---
Nick Muskovac
This image is very busy; however, the subject seems to be separated from the background. In my opinion, the man's hair makes the picture. I might have added a thin border. &nbsp Posted: 03/10/2020 15:26:00
---
Please log in to post a comment