Nick Muskovac, FPSA, MPSA
---
October 2018 - Nicks Double
About the Image(s)
I made this image about 25 years ago, before Digital cameras and Photoshop.
Camera was set on tripod and set to multi-exposure. Cameras from that era, where you had to advance the film, could be set for multi-exposure; A lens attachment, which blocked off one half of the frame was placed in front of the lens. With the right half of the lens blocked, I sat on the couch reading the magazine, for the first shot. The 10 second timer was used to give me time to pose for the camera.
The 2nd shot was taken with the left half of the lens blocked, as I sat on the right side of the couch posing. Both shots were on one piece of negative film. I had the roll of film made into 3x5 inch prints. The other day, I was going through some of my old images and found this print. After I scanned the print, no other processing was used; all that was done was some sharpening and the addition of a frame.

---
This round's discussion is now closed!
5 comments posted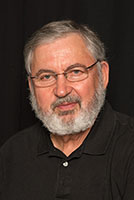 Isaac Vaisman M.D.

(Groups 4 & 58 & 72)
Nick, you are peeking on your twin's Playboy magazine and taking a glimpse of what is going on....
Very clever and elaborated set up, and good result of your scanning and PP.
&nbsp Posted: 10/03/2018 21:23:23
---
Mark Southard

(Groups 8 & 18)
Way too clever, Nick
It may be old images but still effective! &nbsp Posted: 10/10/2018 15:26:54
---
Oliver Morton
Nick, this is great! Before reading your description I was amazed at the similarity of the twins... and very amused at their expressions while reading Playboy. It's a wonderful image and you did a beautiful job merging the two halves of the picture!

Well done.
&nbsp Posted: 10/14/2018 16:54:51
---
Marti Buckely

(Group 22)
Very clever - but then your images usually are. :) I'm wondering - who's hand is coming up from behind the sofa? It almost seems ghostly. Oh yes, this is Halloween month isn't it. &nbsp Posted: 10/27/2018 17:43:53
---
As always your photo are great to look at and admire the work that you put into them. even if it is old you did a great photo of putting them together. &nbsp Posted: 10/28/2018 18:22:45
---