R Gary Butler, QPSA
---
March 2023 - Great Blue Feeding Baby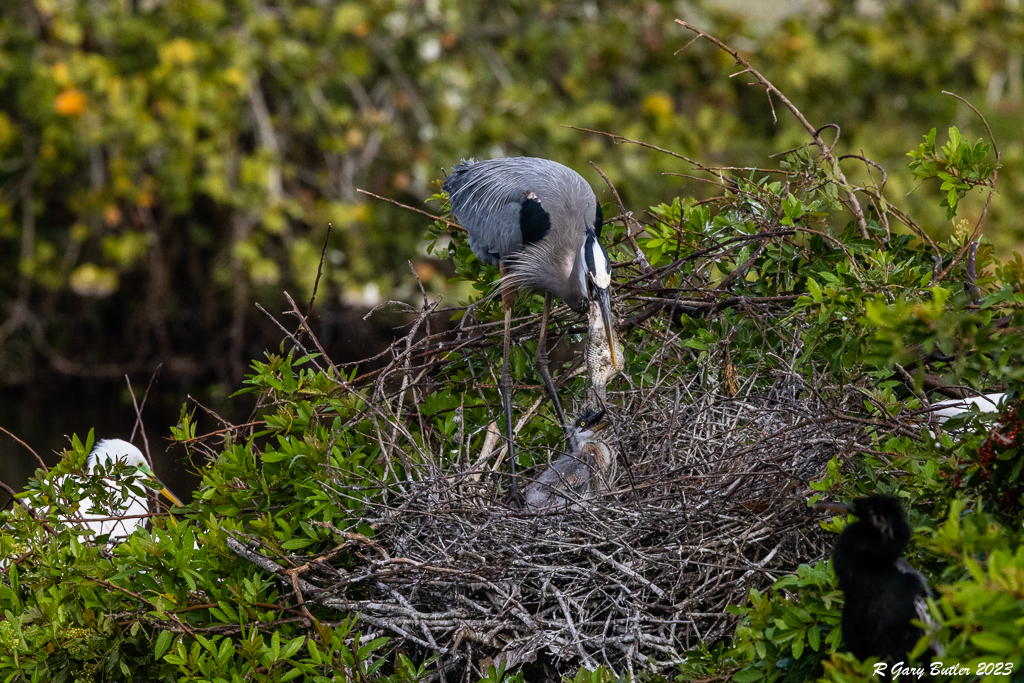 Original
About the Image(s)
This image was taken the last week of February at the Venice Rookery in Venice Fl. At the time there were two nests with Great Blue chicks and one with Great Egret Chicks. I was able to catch this adult holding the fish just above the baby before ultimately swallowing it )in one very fast move I might add.)

These images were shot handheld with mu Canon R5 a the 100mm-500mm RF lens and a 1.4x Tele. The stabilization was on. The shooting parameters were 700mm, ISO Auto yielding an ISO of 6400 (the max range I preset), 1/1600 second, High speed firing rate of 20fps an f/stop of 16 only because I was shooting a shot that required that just before and didn't readjust. Otherwise it would have been the widest available - f/11.

I di the basic post work in LR Classic, sharpened in On1 with a 25% High Pass filter, and added Tonal Contrast and Brilliance/Warmth filters in Color Efex Pro. Lastly I cropped and sharpened the eyes, beaks and head feathers back in LR Classic.
---
This round's discussion is now closed!
10 comments posted
---
---
---
Guy Davies
Gary, this is an interesting image that asks questions. Why is the adult offering such a large fish to the chick? Does the adult think that the chick is able to swallow this fish or is it just showing the chick how to feed? I'm glad you completed the narrative to say that the adult swallowed the fish - quite a remarkable acievement in itself I would think, looking at the size of the fish. Photographically, it shows just how well the chick blends in with the nest and how difficult it must be to get a clear shot of the action. &nbsp Posted: 03/08/2023 07:10:45
---
---
---
Vella Kendall
The little one is precious. I assume the adult will regurgitate after swallowing and feed the baby. With respect to the photo, you were able to capture a key pose in their relationship which I find very pleasing. The eye is sharp and pops from the surrounding area. The far background is nicely blurred to concentrate on the herons. Could that stick touching the beak of the baby be cloned out? The photo shows off the blue of the adult. &nbsp Posted: 03/08/2023 11:45:43
---
---
---
R Gary Butler
VELLA, THANKS FOR YOUR POSITIVE COMMENTS. IN "NATURE" COMPETITIONS NO REMOVALS VIA CLONING ARE PERMITTED. THE IMAGE QUALITY HAS TO GET BY ON THE STRENGTH OF THE STORY OVER THE DISTRACTIONS. FOR "COLOR OPEN" COMPETITION THAT WOULD BE ALLOWED. &nbsp Posted: 03/08/2023 11:56:38
---
---
---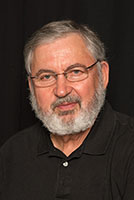 Dr Isaac Vaisman
Gary, I am glad that Venice Rockery is showing signs of return of the birds to nest. The last time I went there, the vegetation was completely invaded by the Brazilian vine, no birds, and a lot of construction going on around.
I like the way Mom is presenting the fish to the chick. There is no question that mom will swallow it completely in one gulp and then regurgiate to the chick. Not like the raptors do, they rip off the catch in pieces on the spot and feed them directly to the chicks.
Yes, most of the times it is very difficult to create a clean shot of the chicks. Here, it seems that the nest was at your eye level. Image is sharp, and yes; the light is harsh. &nbsp Posted: 03/09/2023 12:54:50
---
---
---
Ian Chantler
Hi Gary
Another wonderful nature shot from a group member wonderful capture of animal behaviour as Guy has said thats fish looks like a meal for the whole family not just Mum and
chick.The
bird is beautifully sharp no mean feat hand held,another nature image to be proud of. &nbsp
Posted: 03/09/2023 15:15:55
---
---
---
Marge Barham

(Groups 38 & 75)
Hi Gary, I just stopped by to congratulate you on being chosen for this months Members Showcase. Beautiful, sharp, great colors. Where you shooting from a plane? Very nicely done. &nbsp Posted: 03/17/2023 12:24:06
R Gary Butler
That picture of Pittsburgh was shot from Mount Washington. It's an easy ride up to Duquesne incline, and a great view from the top especially during the Three Rivers Regatta. Thanks for the compliment. &nbsp Posted: 03/17/2023 12:40:33
Marge Barham

(Groups 38 & 75)
Well certainly worth that scary climb. Have a nice day.
&nbsp Posted: 03/17/2023 12:49:27
---
---
---
Erik Rosengren
Your capture presents a good Nature story Gary., featuring a loving parent and hungry chick. My only suggestion would be to crop the top to eliminate the corner branch. &nbsp Posted: 03/18/2023 01:16:33
---
---
---
Bill Buchanan
Been there, done that. I've never been disappointed at the Venice Rookery. The trick is to get a good view of the parents and offspring. You did a good job. &nbsp Posted: 03/24/2023 15:52:27
---
---
---