Vella Kendall
---
March 2023 - Curious Cows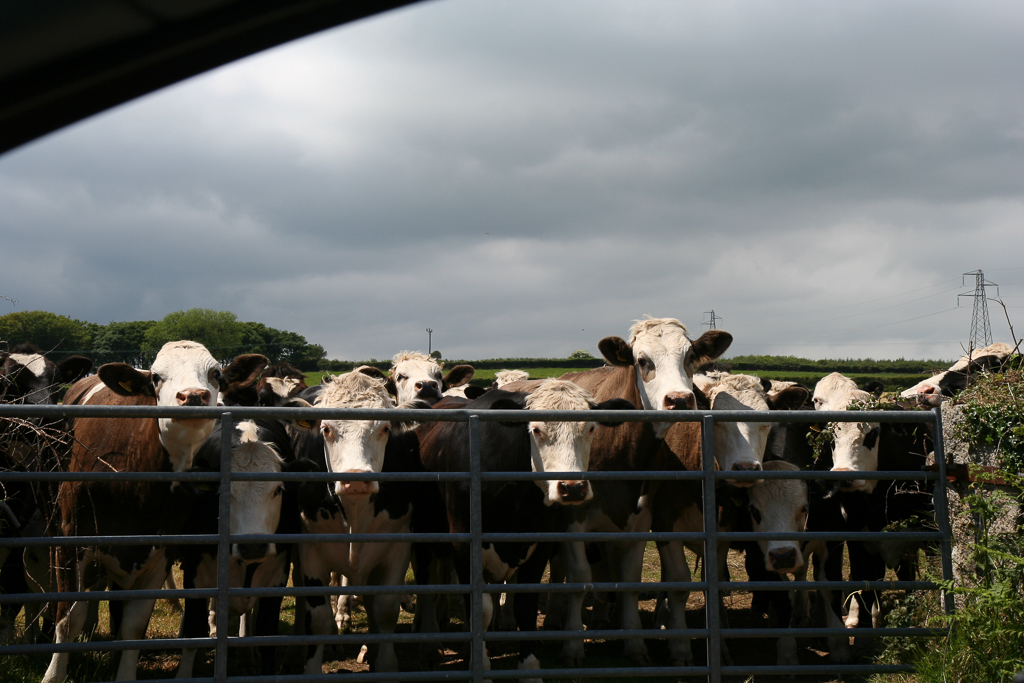 Original
About the Image(s)
Canon Rebel 33mm F/8 1/400 ISO 100
Taken on a long-ago trip to Cornwall. I dropped my drink in the car and my husband grumbling, stopped the car to clean me and the car up. I was so excited when these cows came up to greet us.

Cropped, cloned out the wires in photoshop, normal exposure adjustments, Darken Lighting Center in Nic, went into On1 and used HGR subtle. Back in Lightroom I put a mask on the bottom of the cows to lighten their legs and bodies.
---
9 comments posted
---
---
---
R Gary Butler
Vella, having grown up helping on a dairy farm this image brought back quite a few memories. - from milking cows by hand to the infamous game of "cow tipping." I spent a few moments pondering what this group was thinking which probably wasn't much as their processing power is not great.
I believe that the cows are the focus of your image so in the VF I have cropped in the unnecessary spaces left and right. To my eye the image seemed a bit fat so I also bumped the contrast and adjusted the black point a bit. &nbsp
Posted: 03/06/2023 12:03:52
---
---
---
Guy Davies
Like Gary, this image takes me back to my childhood when I had a friend whose father had a farm. Cows are very curious and will gather together like this when something out of the ordinary happens. Processing has been done well and I prefer your original crop leaving the sides as they are, because this is part of the story showing that the cows have come together at a gate rather than just at a continuous fence. &nbsp Posted: 03/08/2023 08:13:26
---
---
---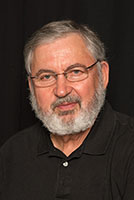 Dr Isaac Vaisman
Vella, cows galore behind the fence, which frames them very well. They look curious of something happening in front of them. The image is sharp. Agree with Gary's PP but not the crop &nbsp Posted: 03/09/2023 13:04:22
---
---
---
Ian Chantler
Hi Vella
This so made me smile I have lived in large conobations all my life so not had the experiences or knowledge of Gary,or Guy,you certainly had a captive audience and took full advantage of it.I also prefer your original crop as for me it gives a little more space which is needed,you must drop your coffee more often if this is the result. &nbsp Posted: 03/13/2023 16:07:21
---
---
---
Erik Rosengren
We have all experienced miscues marching through lifes paths. Vella, you took the opportunity to make a diamond out of a piece of coal. Images are so important in keeping happy and sad memories alive for us and our future family generations alive to enjoy. I prefer your crop. &nbsp Posted: 03/19/2023 12:49:52
Bill Buchanan
&nbsp Posted: 03/24/2023 16:14:26
---
---
---
Bill Buchanan
So much Bull over some cows! &nbsp Posted: 03/24/2023 16:15:04
---
---
---
Bill Buchanan
You were lucky to get all the cows attention. I personally think this would be a great panorama by cropping most of the sky and slightly on both sides. This ain't no bull either. &nbsp Posted: 03/24/2023 16:19:01
Vella Kendall
I think I will give that a try. Thanks for the advice. &nbsp Posted: 03/24/2023 18:25:46
---
---
---
Please log in to post a comment