Bill Buchanan, HonPSA, FGDC
---
April 2021 - Fort Street Presbyterian Church
About the Image(s)
A few friends from the camera club got permission to photograph the interior of this incredible church. This is the Fort Street Presbyterian Church in downtown Detroit. The structure was built in 1855. There is a pew near the altar commemorating a visit by president Teddy Roosevelt in 1902.

This was shot from the balcony with my Canon 7D MKII, on a tripod using a Rokinon 8mm Fisheye lens. It was a three stop HDR bracket, 1250 ISO, processed with Aurora 2019 using the Randy Van Duinen look with Tungsten+Daylight preset. I also processed it in Topaz AI Clear. The edges were slightly darkened in Adobe Camera Raw filter. The reason I used HDR was because the HDR process brought out the full detail of the ceiling which in reality was very day to the human eye. I have also created a black and white image of this scene and it's a knock out.
---
7 comments posted
---
---
---
Vella Kendall
Just beautiful and emotive. Best use of a fisheye I have seen. You nailed the exposure and I cannot imagine the black and white being any better given the richness of these colors. &nbsp Posted: 04/04/2021 10:14:45
---
---
---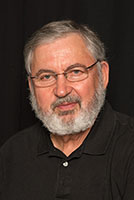 Isaac Vaisman M.D.
Bill, the degree of detail throughout the whole image is just amazing. The fish eye lens did create some distortion but it is appropriate (did you do lens correction on the image ?) You handled the exposure impeccably. No area is overexposed. Everything is in focus (not stated, but surely small aperture) all the structures on all four sides work as frames and lead your eyes toward the back where the Cross, the organ and one half star of David are located. Very complex image to review with attention. Added bonus the star effect on the light. &nbsp Posted: 04/04/2021 14:54:10
---
---
---
Guy Davies
An excellent architectural shot, Bill. Symmetry is pretty well perfect and difficult to achieve with such a wide angle lens. You only need to be inches off the centre line for it to show. Yo have hit the centre dead on. Detail is amazing. I tried the image in Photoshop with a B/W adjustment layer and the result is stunning. you have got a winner here, Bill. &nbsp Posted: 04/05/2021 04:32:05
---
---
---
Gary Butler
Bill, thanks for sharing this wonderful image. For me it helps to see what an accomplished artist can do in an area of photography that is one of my favorites. I have photographed churches in Chicago, Buffalo and other locations. There are so many beautiful old churches in this country. I will have to add this one to my list.

I believe that you have done a very good job in post work bringing out the details throughout. Your presets have resulted in an image that accentuates the details through contrast and coloring yet remains very believable to the viewer's eye. From my experience I often debate on the starburst from the ceiling lights - I like that look and am glad to see that you do as well.

I am curious to know if you got the same lighting/brightness on all the stained glass windows just by using a 3-shot HDR. I often take additional exposures for the purpose of substituting if the the light varies. How broad were your exposure settings for the three shots.

Thanks. &nbsp Posted: 04/07/2021 08:46:27
Bill Buchanan
Thank Gary. Actually I was not happy with the two stop range to capture the stained glass. I should have added one mor exposure at -5 stops to get good detail in the stained glass. I cheated a bit. I made a selection of the stained glass window above the altar and reduced the brightness and contrast somewhat.

I'm going to photograph another cathedral like church next week and I'm going to be more careful in capturing the stained glass. &nbsp Posted: 04/08/2021 15:46:41
Guy Davies
I have found that the best light for stained glass is a dull, overcast day. &nbsp Posted: 04/13/2021 09:57:57
---
---
---
Ian Chantler
Hi Bill
I also have a Samyang 8mm fisheye which I rarely use but at times it is invaluable but I have never been able to manage a shot without some form of distortion.
Magnificent church wonderfully captured stunning detail the HDR has really made it pop a superb image. &nbsp Posted: 04/13/2021 15:39:40
---
---
---
Please log in to post a comment