Isaac Vaisman M.D., FACRO
---
April 2021 - Conch With Veil
About the Image(s)
Conch with Veil was created in Turks and Caicos a few years ago. I was sitting on the beach, and in one of the lifeguards hut there were a few of conch shells. I took one and brought it to the sea shore and I sat on the sand. I was playing with my wife's camera, a Canon Powershot G1 X, zoom lens 15.1-60.4 mm f/2.8, and with the screen flipped out and facing up, I took a series of shots as the waves were coming in. This for me was the most spectacular where the foam is wrapping around the shell like a veil.

Settings: ISO 200, f/4 and 1/2000 sec. The zoom lens was set to 15.1 mmm (widest). The image was PP in lightroom. Some light added to the shadows and some texture to the foam and cropped it.
---
8 comments posted
---
---
---
Vella Kendall
I really get the sense of being at beach. I can hear the waves. The foam encircles the shell nicely following the shell's contours. Good color contrast. I admire your creativity with borrowing the shell. &nbsp Posted: 04/01/2021 22:02:52
---
---
---
Guy Davies
Lovely detail in something that most people would miss. Well done for seeing the possibilities and setting it up. I am hopeless at setting things up so I always admire those who have that sort of imagination. I hope you gave the lifeguard his shell back! &nbsp Posted: 04/02/2021 05:09:02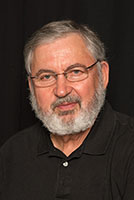 Isaac Vaisman M.D.
Guy, of course I did !!! &nbsp Posted: 04/02/2021 07:01:33
Guy Davies
Never really doubted it! &nbsp Posted: 04/02/2021 07:29:11
---
---
---
Vella Kendall
I really get the sense of being at beach. I can hear the waves. The foam encircles the shell nicely following the shell's contours. Good color contrast. I admire your creativity with borrowing the shell. &nbsp Posted: 04/04/2021 09:59:35
---
---
---
Gary Butler
Isaac, for me this evokes memories of being a kid at the beach and searching for a conch shell that was like the one in your picture. To my eye the placement of the line of water bubbles in the wave from the lower right corner leads the viewer's eye to the conch and holds it there. The softness of the water compared to the crisp detail of the shell also work to accomplish this as well. &nbsp Posted: 04/04/2021 14:44:36
---
---
---
Angela Bonner

(Group 81)
Beautiful image, well seen!! &nbsp Posted: 04/09/2021 10:37:09
---
---
---
Ian Chantler
Hi Isaac
What an unusual and well seen shot love the way the arc of the foam meets up with the arc on the shell and if you like completes the circle, the fast aperture is perfect and so concentrates the eye on the subject an image that so works for me. &nbsp Posted: 04/12/2021 16:26:53
---
---
---
Please log in to post a comment