Vella Kendall
---
November 2020 - Fjords of Norway
Original
About the Image(s)
Took this a few years ago on a trip through the Scandinavian countries. We were on a ferry boat traveling through the fjords. I processed mostly in Lightroom with exposure, highlight, vibrance and texture adjustments. Then I took it into Color FX for Darken/Lighten where I lightened the center and darkened the edges.


Canon 5DIV Canon 24-70 2.8 ISO 2000 F/9 1/250 sec 24mm



---
This round's discussion is now closed!
11 comments posted
---
---
---
Joseph Hearst
I've never been to Fjords, but this shot makes me want to go there. Having been cooped up in the house for months, the view of the water in front of us (of course I really don't know if you were moving in that direction) seems like a great release. &nbsp Posted: 11/11/2020 12:14:48
Vella Kendall
Thanks Joe. The fjords are beautiful. I know what you mean about staying home. The more cases go up the more we stay confined. &nbsp Posted: 11/13/2020 09:30:43
---
---
---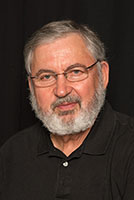 Isaac Vaisman M.D.
Vella, those fjords are really a photographers paradise with the variety of images possible. This landscape evokes a lot of calm and silence. The presence of the fog and clouds at a very low position adds interest to the image. Your PP really brought out a lot of color. The use of a polarizer filter most likely would have improved the image removing most of the bright reflections on the water. &nbsp Posted: 11/11/2020 13:18:29
Vella Kendall
Thanks, I think I had a polarizer on but have never mastered it. &nbsp Posted: 11/13/2020 09:35:43
---
---
---
Guy Davies
You did a great job with bringing out the colour and making the weather look a lot brighter than it appears in the original shot. Like Joe, I have never been to the Norwegian fjords, but I don't have the excuse of long distance as they are just across the North Sea from where I live. The image is very sharp and clear - not easy when you are on a moving ship. I agree with Isaac about the use of a polariser to cut down the bright reflections, but my experience of photographing from a moving boat or ship suggests that although you are moving quite slowly, the scene changes all the time and if you stop to fiddle with the lens or fit a polariser you miss the shot. It is normally a case of see it, snap it! &nbsp Posted: 11/13/2020 07:57:50
---
---
---
Vella Kendall
Thanks, you are very lucky to be so close to wonderful photographic scene. &nbsp Posted: 11/13/2020 10:09:21
---
---
---
Ian Chantler
Hi Vella
Having lived my life either side of the River Mersey and being lucky to regularly use the Mersey Ferries I can confirm it is extremely difficult to get such a sharp image from a moving boat,so well done.
As already stated you did a fantastic job of getting so much colour out of the hillsides and the positioning of the low clouds adds real interest and contrast to the image.
I had 2 thoughts the first was I wondered if a crop from the bottom to just below the hillside reflection may cut out some of the highlights and looking at the original this could make a very moody mono image.
A great shot and a wonderful memory for you.
&nbsp
Posted: 11/16/2020 14:23:00
Vella Kendall
I agree with your more cropped version, it looks better. Since I enjoy working with black and white I will definitely do that. &nbsp Posted: 11/17/2020 14:53:44
---
---
---
Erik Rosengren
The water reflection line guides the viewers eye into the background and on that journey all subjects will be viewed. The image is sharp, providing good color. The low clouds creates relaxed eye candy and additional interest. I agree with Ian's crop. &nbsp Posted: 11/19/2020 13:08:46
---
---
---
Vella Kendall
Thanks for your kind words. I really appreciate them. I agree with the crop also. &nbsp Posted: 11/20/2020 20:44:08
---
---
---
Bill Buchanan
You certainly made some lemonade out of lemons. These type of situations can be extremely challenging. My primary objection was the horizon line was too high. I felt the greens in the hillside could use some boost along with the clouds in the sky. I made a few adjustments in NIK Viveza. &nbsp
Posted: 11/21/2020 09:49:36
---
---
---