Bill Buchanan, HonPSA, FGDC
---
November 2020 - Dahlia
About the Image(s)
I continue to experiment with my new CamRanger Mini and Focus Stacking. This was prompted by Sharp Todd's article in the August PSA Journal. I have now added an Apple iPad because it has a larger screen than my iPhone 6S Plus.


This month's image is of a Dahlia that was given to our Daughter in law by a gardener friend.It was photographed on the kitchen countertop with available lighting.It was a capture of 13 individual exposures.It was processed in Helicon Focus and finished up in Photoshop.


---
This round's discussion is now closed!
7 comments posted
---
---
---
Joseph Hearst
Wow! You are slowly convincing me that I should experiment with focus stacking, especially because I basically can't leave the house. &nbsp Posted: 11/11/2020 12:05:28
---
---
---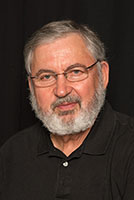 Isaac Vaisman M.D.
Bill, indeed this dahlia has seen the best of its time already, but it is decaying with class. It is really impressive the degree of sharpness throughout the frame. The colors are still vivid, and I like the way you placed the center of the flower off the midline of the frame. I have used Helicon Focus in the past. The new Nikon Cameras (D850, Z6, Z7 and others) allows you to do take the set number of images (by you) without you needing to move the focus point. I just wonder if you have compared the result obtained by Helicon with what you now can do with Light Room or Photoshop. &nbsp Posted: 11/11/2020 12:49:39
Bill Buchanan
Isaac, I have tried photoshop previously on simple images but find Helicon works better and much faster too. &nbsp Posted: 11/11/2020 16:03:24
---
---
---
Guy Davies
Bill, it is a super picture of the dahlia with everything sharp from front to back. Well composed and cropped, with the flower head placed just the right amount off centre. This would make a very nice print on a smooth art paper.
Focus stacking has introduced a new dimension into close-up photography - I really must give it a try. &nbsp Posted: 11/13/2020 07:38:12
---
---
---
Erik Rosengren
This is a magnificent capture Bill, the colors are outstanding and forced my eyes right to the stamen. your stacking allowed this dated flower to be the best it could be. &nbsp Posted: 11/13/2020 20:26:47
---
---
---
Ian Chantler
Hi Bill
Sharp all the way through I feel I could reach out and pick it up,the colours so vibrant and the flower perfectly placed in the frame for me, as Guy said would make a great print. &nbsp Posted: 11/14/2020 12:28:20
---
---
---
Vella Kendall
Same as above with perfect lighting and gorgeous colors. Agree with Joe about trying focus stacking. I bought a cam ranger but never used, time to dig it out. &nbsp Posted: 11/17/2020 15:42:55
---
---
---