Vella Kendall
---
October 2020 - Somewhere out West
Original
About the Image(s)
Canon 5D MK III, Canon 16-35 F/4 at 16MM


ISO 1250, F22, SS 1/160






This is another scene from our trip out west. I assume it is also Glacier National Park.


How I Did It: I imported into lightroom and adjusted exposure, white balance and set white and black points, added some texture and clarity. The sky was not very good with the color and I had used a polarizer so the sky had that polarizer look that I hate, so I used the graduated filter in Lightroom and adjusted parts of the sky. I then took it into On1 and used there HDR filter:subtle. I also used Viveza to adjust the sky. I just downloaded Topaz DeNoise and tried that on this photo. I still did not like the sky so I took it into Photoshop and cloned some of the sky and tried to get rid of halos.



---
10 comments posted
---
---
---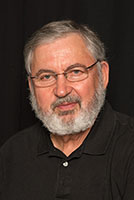 Isaac Vaisman M.D.
Vella, another view of the somewhere west location, complementing last month image. Again it is nicely composed, with foreground, mid ground and background, complemented by vey rich clouds. The colors are very vivid, it is sharp. The central valley works a as leading line towards the mountains in the back and the clouds. Your PP was very effective in bringing out detail and colors. &nbsp Posted: 10/02/2020 15:54:25
Vella Kendall
Thanks for your kind remarks. I just had a hip replacement so I have been tardy in my responses. &nbsp Posted: 10/11/2020 11:54:26
---
---
---
Guy Davies
Vella, your image clearly illustrates the classic U-shaped valley that is formed by glacier action. The image is very sharp and clean all the way from foreground to background, and the composition is satisfying. The sky is fine so your efforts have worked well. Haloes can be a real problem sometimes and I find that the best thing to do is to go back though the processing steps to find which one has had the greatest effect. Then I try to mask that effect from the appropriate edges using a soft edged brush. I find ON1 RAW good for that - you can turn individual effects and local adjustments off and on quite easily. Do you use ON1 as a plugin to PS or have you got it as a stand-alone installation? &nbsp Posted: 10/08/2020 08:38:11
Vella Kendall
Thanks for the suggestion about the halos. I do have On1 but rarely use it. I usually do my halo's in Photoshop, but did not notice them this time. I have not answered earlier as I had a hip replacement which I am still recovering from. &nbsp Posted: 10/11/2020 11:52:39
Guy Davies
Hi Vella. Hope you recover quickly. &nbsp Posted: 10/14/2020 07:00:00
---
---
---
Joseph Hearst
I really enjoy the canyon - I wish I was still a backpacker so that I could visit it. I think you did a great job with the sky. I never heard of ON1 so I'll have to look it up, since I think you did well balancing the sky and the foreground. &nbsp Posted: 10/13/2020 11:59:37
Vella Kendall
Thanks, I was afraid that my sky colors were off. &nbsp Posted: 10/13/2020 12:54:58
Vella Kendall
Thanks, I was afraid that my sky colors were off. &nbsp Posted: 10/13/2020 20:21:31
Guy Davies
Joe, I started using ON1 RAW instead of Photoshop when I bought a new camera that my old version of PS would not open. I have an aversion to renting the software which you now have to do with PS, and you can buy ON1 outright. it's a bit like a combination of LR and PS and has come on in leaps and bounds in the last couple of years. It takes a bit of learning to start with, but now I really like it. &nbsp Posted: 10/14/2020 07:05:00
---
---
---
Erik Rosengren
This image offers good depth of field showing sharp, realistic color hues. As Isaac stated, the image showed a strong leading line. You used the proper P.P. tools that elevated the rendering to be the strongest it could be. &nbsp Posted: 10/21/2020 10:43:33
---
---
---
Please log in to post a comment