Guy Davies, EPSA
---
August 2020 - Bilbao Lamps
About the Image(s)
This was taken on a trip to Bilbao in northern Spain in May 2019. Shot just after 2 pm, there was no question about looking for delicate light. The light was strong and harsh so I decided to choose a strong composition to suit. I liked the shapes of the old lamps and the old building behind so I positioned myself under the lamps, looking up at the plain blue sky and including the building in the background. Tilting the camera gave me a more dynamic composition and filled the frame better. Shot hand held on my Lumix G9 with the 12-60 Leica lens at 22mm, the exposure was 1/320 at f/8 with 200 ISO. No filters were used. Back home it was processed and cropped in ON1 RAW. Very little work needed to be done other than the usual brightness and contrast adjustments and toning down a highlight in one corner.


---
14 comments posted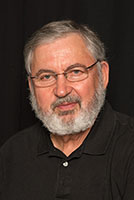 Isaac Vaisman M.D.
Guy, interesting vantage point. Image is sharp. Beautiful colors and non distracting and contrasting blue sky background to make the Bilbao Lamps stand out. The juxtaposed building adds interest to the image, and I see you kept the lines parallel, which prevented you from moving slightly to be able to obtain complete separation of the five lamps. Many times is a difficult dilemma to resolve on the spot. &nbsp Posted: 08/02/2020 07:39:37
Guy Davies
Thanks for your comments Isaac. I wanted the lamp post to line up with the corner of the building and could not find any position that would separate all the lamps. &nbsp Posted: 08/02/2020 07:56:10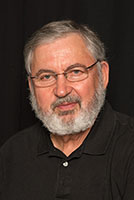 Isaac Vaisman M.D.
Guy Davies
Isaac, your surgical skills are impressive! &nbsp Posted: 08/02/2020 13:39:20
---
Vella Kendall
Great surgical procedure by Issac. Have you thought of a black and white version? You have such nice textures and detailS. &nbsp Posted: 08/06/2020 00:05:56
Guy Davies
Vella Kendall
That looks really good. It really shows the details and textures. We are scheduled for Northern Spain/Portugal in October, with Bilbao on the itinerary. Unfortunately we will most likely not be going. &nbsp Posted: 08/06/2020 10:04:22
Vella Kendall
That looks really good. It really shows the details and textures. We are scheduled for Northern Spain/Portugal in October, with Bilbao on the itinerary. Unfortunately we will most likely not be going. &nbsp Posted: 08/11/2020 09:30:14
Vella Kendall
That looks really good. It really shows the details and textures. We are scheduled for Northern Spain/Portugal in October, with Bilbao on the itinerary. Unfortunately we will most likely not be going. &nbsp Posted: 08/11/2020 10:39:40
Vella Kendall
That looks really good. It really shows the details and textures. We are scheduled for Northern Spain/Portugal in October, with Bilbao on the itinerary. Unfortunately we will most likely not be going. &nbsp Posted: 08/11/2020 17:04:01
---
Erik Rosengren
A well balanced composition, sharp and offers Impact due to the bright blue clean background and your chosen angle for making the shot. It appears that Isaac's surgery added the finishing touch. &nbsp Posted: 08/09/2020 07:31:19
---
Joseph Hearst
I think that it is a great composition, and I must agree that Isaac's surgery helps it a lot. I've been wanting to go to Bilbao for a long time, but it's a big deal to get the from San Francisco. And now with, I've given up on the idea completely. &nbsp Posted: 08/11/2020 12:58:54
Guy Davies
Joe, I think we have all had our wings clipped by this virus. We were due to go to Santorini in May but that was cancelled. &nbsp Posted: 08/11/2020 13:47:14
---
Ian Chantler
Hi Guy
Another lesson in composition a great spot wonderful detail on the lamp post the brilliant blue sky is a superb backdrop the black and white image is really powerful to wonderful images for the price of one. &nbsp Posted: 08/13/2020 14:44:58
---
Please log in to post a comment