Isaac Vaisman M.D., FACRO
---
August 2020 - Evolution
About the Image(s)
Evolution was created a few years ago in Bogota-Colombia. On a cloudy day we were driving on the outskirts of the city and came across this fenced field with an old and rusted car and horses. I thought on the contrast and evolution in transportation from a live horse to a horse powered engine in a car. I used my old DX (cropped sensor) Nikon D300s with the Nikkor lens 18-200 mm f 3.5-5.6 and with these settings: ISO 500, f/18 and 1/100 sec and + 1/3 EC hand held. The image was PP in lightroom for exposure, white balance, brightness and shadows, and was cropped to eliminate the contour given by the fence. Using Viveza 2 I gave a little contrast and structure to the very flat sky.


---
6 comments posted
Guy Davies
An interesting study in evolution and an interesting visual comment on it too. The evolved transport of the modern vehicle of many horsepower has died, but the old form in the shape of a horse still lives on! Could you perhaps add a bit more contrast to make the horse stand out more? It might also have more impact in black & white. &nbsp Posted: 08/02/2020 08:25:04
---
Vella Kendall
I like how the horse is in the background looking dejected knowing how things get replaced and it's replacement is on the way out. As you said Evolution.

I think I would like the right side cropped to get rid of the brown structure. &nbsp Posted: 08/05/2020 23:54:06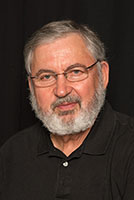 Isaac Vaisman M.D.
Guy Davies
More whizz kid surgery! &nbsp Posted: 08/06/2020 12:39:05
Vella Kendall
Looks good. To me it gives the horse a better placement. I am a big fan of content aware fill. Another feel I get from the photo is time marches on. &nbsp Posted: 08/06/2020 13:06:04
---
Erik Rosengren
Many photogs would have driven right bye this opportunity. Your commentary allowed me to have a greater understanding of why this image was made. Content Aware Fill deleted the distraction and in my opinion, produced a stronger balanced image. &nbsp Posted: 08/09/2020 07:11:30
---
Please log in to post a comment