Bill Buchanan, HonPSA, FGDC
---
June 2020 - Wabi-sabi
About the Image(s)
A few weeks ago PSA member, Lisa Chuchara, conducted a webinar titled Wabi-Sabi. In traditional Japanese aesthetics, wabi-sabi is a world view centered on the acceptance of transience and imperfection. The aesthetic is sometimes described as one of beauty that is "imperfect, impermanent, and incomplete"Her webinar featured many images similar to this one of dead flowers.


Since my activity has been limited due to the Covid-19 virus i resorted to counter top photography. This months image was photographed on the kitchen counter. The dead tulips were held in a Dr. Peper soda can and the backdrop was created in photoshop and printed on 8.5 x 11 paper. I used a hand held LED light source and shot a three exposure HDR. It was processed in Photogshop. I ran it throught Topaz AI Clear to increat=se the sharpening and eliminate any digital noise.


---
This round's discussion is now closed!
6 comments posted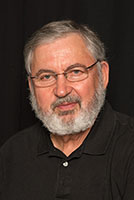 Isaac Vaisman M.D.
Bill, I also watched Lisa's webinar. The title called my attention, and it was interesting. Lisa and her husband do nice work. Here you are expressing the fading beauty of these dying tulips (not dead yet !!) since the are still colorful petals. I like the background that you created. Interesting on the yellow tulip, the fallen petals expose the intricate structures inside. The way the flowers were set up on Dr Peper's soda can (I would have used a club soda can...)form a V for victory and purpose in life. It is very sharp, and of course we could spend the rest of the day having a philosophical discussion about life and death. &nbsp Posted: 06/05/2020 08:14:37
---
Guy Davies
An excellent piece of work, Bill. We also watched the Wabi Sabi webinar. I do agree that dead, or nearly dead, flowers have a particular beauty and you have brought that out well. I think I might have chosen a different colour for the background though, as the green is close to the colour of the stems. Maybe a pale blue with a slight gradient so that it's not uniform? &nbsp Posted: 06/05/2020 12:05:35
---
Joseph Hearst
I too watched the Wabi-sabi webinar, but I first learned about wabi-sabi on a couple of workshops with Richard Martin. This is an excellent example of the concept, and for me a very good composition and pleasant image. &nbsp Posted: 06/06/2020 16:26:34
---
Ian Chantler
Hi Bill
This is all new to me but I love finding out about concepts and ideas new to me.
The image is incredibly sharp and the fine detail is extrordinary the more I look the more I see, beautifully composed and presented and one I keep going back to. &nbsp Posted: 06/09/2020 08:12:27
---
Vella Kendall
I agree with everyone that it is a beautiful image. I have never heard of this technique. I like the green background green on green. &nbsp Posted: 06/13/2020 12:59:53
---
Erik Rosengren
A Spectacular Table Top Bill, good contrasting colors, sharp as a tack and perfectly placed on your canvas. The background used and stroke complete a stunning image. &nbsp Posted: 06/14/2020 12:01:50
---