Bill Buchanan, HonPSA, FGDC
---
January 2020 - Polar Express
Original
About the Image(s)
This months image is as they say "Hot off the Press." I had the opportunity to join a group of photographers in photographing the Polar Express out of Owosso, Michigan. This is the locomotive that was the model for the Disney movie The Polar Express. The weather wasn't that great for photography but I envisioned this scene as a Black and White.

I took a fair amount of post work to get to this final result. The image was shot with my Canon 7D on a tripod, with a 24-105 lens in Servo Mode to follow focus. I did a lot of post work with NIK Viveza 2 to work on the train and the smoke. I'm including the base color image to show where I started. I intend on entering this one in several PSA International Exhibitions.


---
This round's discussion is now closed!
5 comments posted
Guy Davies
Black & white was a very good choice. The power and the drama of the image can be brought out well in b/w. You have done a great job in bringing out the detail in the smoke and steam so that it stands out well from the sky. I just wonder if you have gone far enough with the overall contrast and darkening of the sky. I took it into Photoshop, added some contrast overall and darkened the sky a bit. Then I merged to a new layer and applied the Shadows/Highlights adjustment at the defult setting. Then I darkened it overall to restore the tonal levels. &nbsp
Posted: 01/04/2020 11:35:15
---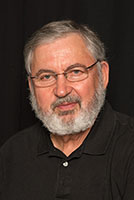 Isaac Vaisman M.D.
Bill, you had send me this image to look at before and to consider "To flip or not to flip". I am glad you did not. The B&W interpretation of the attached color image is more dramatic, and after Guy's changes it looks even better. I like the way you framed the train and the tracks which are perfect leading lines. The building with the big sign gives us location. &nbsp Posted: 01/04/2020 11:54:57
---
Joseph Hearst
This brings back memories. I used to ride on trains like that. It's a great image and I think that Guy's darkening of the steam makes it even more fun. &nbsp Posted: 01/06/2020 17:49:30
---
Ian Chantler
Hi Bill
What an experience this must have been to see and feel this monster thundering towards you at full steam and boy have you captured the drama of the moment composition is spot on with the train placed perfectly in the frame as you said it just had to be a mono image I can see you having a lot of well deserved success with this image. &nbsp Posted: 01/13/2020 15:18:40
---
Erik Rosengren
Another strong image Bill. I agree with the others with respect to their Post work and would like to offer my suggestion. Remove the rope with content aware and that might suggest that the station is still up and running. &nbsp Posted: 01/19/2020 11:32:36
---