Joseph Hearst, FPSA, PPSA
---
January 2020 - Sagrada Familia seen from Sant Pau, Barcelona
About the Image(s)
Sant Pau is a huge art nouveau complex & former hospital with mosaics, stained glass & gardens. When I saw the reflection of the main building through the arch and a view of Sagrada Familia down the road, I couldn't resist it.

Basically a three-shot HDR with a little post in the central view of Sagrada Familia.
---
4 comments posted
Guy Davies
Well done Joe! Having quite recently been to Barcelona and NOT seen this scene, I am greatly in awe of your vision. The symmetry of the image works very well and, after exploring the foreground archway and surrounding structure, the eye travels nicely through the two arches to the Sagrada Familia. The distotion of the main building throgh the first arch tells us we are looking at a reflection and helps in understanding the image. &nbsp Posted: 01/04/2020 11:04:59
---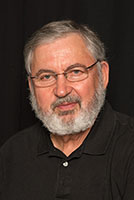 Isaac Vaisman M.D.
Joe, as always you have a great eye for things most of the people and of course photographers do not see. Great combination of images and reflections, and the cherry is the view of Gaudi's La Sagrada Familia which probably will never be finished. You have the added bonus of some people looking out the windows. &nbsp Posted: 01/04/2020 11:49:44
---
Ian Chantler
Hi Joe
Fantastic spot and for me perfect composition I am always looking at reflections and am amazed how many people walk around with their heads pointing groundwards they miss scenes like this so many things to see and take in and great shapes within the image.
One think would look really good printed and framed. &nbsp Posted: 01/08/2020 15:39:15
---
Erik Rosengren
I agree with all the members comments Joe. I have only one suggestion, bring down your horizontal ruler and place it on the top horizontal line. The building is slightly canted to the left. Hit ctrl A ctrl T. Place your curser on the top left corner to elevate that area until the line is level. Hit file-save as then you are through &nbsp Posted: 01/13/2020 11:45:30
---
Please log in to post a comment