Guy Davies, EPSA
---
October 2019 - Red, Blue and Black
About the Image(s)
This was taken on our trip to Bilbao in May this year. It shows a detail of a very impressive road bridge over the river, located beside the Guggenheim Museum. It was taken at a little after 9 am on a very bright sunny day, with not a cloud in the sky. Under those circumstances I generally look for bold, bright compositions, and here I was struck by the intensity of the red structure set against the strong blue sky. I managed to find a viewpoint which contained the lamp post within the red area, and I was able to crop the image afterwards to a square format to bring the suspension cable to leave the image at the top left corner. It was sheer luck that the apex of the triangular shadow was just touching the edge of the red structure. The image was opened in ON1 RAW and adjusted for contrast. The red and blue were enhanced a little and Dynamic Contrast added. It was then cropped to a square format as already mentioned. Taken on my Lumix G9 with the Leica 12-60 f/2.8 lens at 38 mm. Exposure was 1/500 at f/8 with ISO200.




---
10 comments posted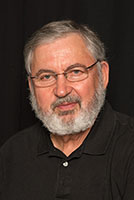 Isaac Vaisman M.D.
Guy, this image is a symphony of colors and shapes, and is abstract as well. The presence of the light pole adds curiosity to it, and the shadow gives tridimensional character. You really did a great job in the composition (walking the image). The wire works as a potent leading line towards the red structure. The treatment of the colors is also very good. &nbsp Posted: 10/06/2019 23:53:41
---
Joseph Hearst
You were indeed lucky to have the tip of the shadow touching the edge. I suspect that the placement of the lamp post was more skill than luck. I think the composition is excellent. I would love to go to Bilbao if only to see the museum. &nbsp Posted: 10/09/2019 15:22:46
---
Thomas Wiemer
A nice graphic composition. On my monitor the picture has a very strong contrast so the green part seems to be very dark. &nbsp Posted: 10/10/2019 02:59:28
---
Ian Ledgard

(Group 18)
Hello Guy,
A long time since we last met. Came across your image when browsing through the current entries.
I remember this bridge for our visit two years ago when I also took shots on my Lumix G9. Sadly the lighting was not as good.
This a a splendid graphic image with bold colours. &nbsp Posted: 10/11/2019 03:54:29
Guy Davies
Hi Ian. Thanks for your nice comment. It is indeed a long time since we last met. I hope you are enjoying life to the full, and it's nice to see that you share my choice of the Lumix G9 as a great camera. &nbsp Posted: 10/11/2019 07:23:23
---
Ian Chantler
Hi Gut
Your wonderful eye for what most of us would pass by and your compositional skill never fail to amaze me.The colours are so beautifully intense and vibrant I so love looking at sections of structures to see if there is a more intimate image to be had but this is a masterclass in how to do it.I have one nit pick and its purely my opinion and no one else has mentioned I find the thin strip of blue on the right side does keep drawing my eye but its your image but that apart its a brilliant image I really really like. &nbsp Posted: 10/15/2019 16:39:18
Guy Davies
Hi Ian
I too wanted to do something about the thin strip of blue on the right, but if I were to crop it out I would lose some or all of the triangular shadow on the red bit. I've played around with various crops and can't get anything that I like better. Maybe I should have left a bit more blue on the right to balance things better. &nbsp Posted: 10/16/2019 07:00:29
Ian Chantler
Hi Guy
if it ruins the overall appearance and balance of the image leave well alone because as already stated it is superb. &nbsp Posted: 10/16/2019 17:08:25
---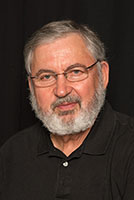 Isaac Vaisman M.D.
---
Guy Davies
That's a nice one Isaac. The thin segment of blue closes off the red very nicely. Without the blue at the edge, the red would apparently go on indefinitely. The segmental shape fits very well with the other curves in the image. Thanks for the suggestion. &nbsp Posted: 10/18/2019 08:09:36
---
Please log in to post a comment