Joseph Hearst, FPSA, PPSA
---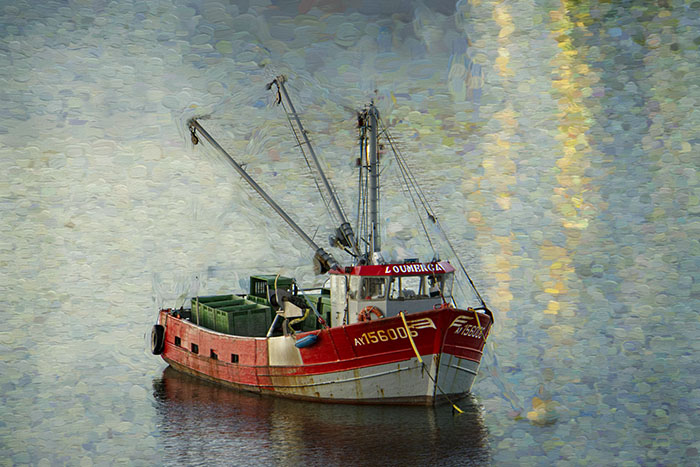 October 2019 - Boat with impressions
About the Image(s)
About two years ago I went to Brittany with John Baker, and I made this shot of what I guess is a fishing boat in La Trinite sur Mer. I worked over the water with Topaz Impressions, and made one change suggested by Bill Buchanan. Can anyone translate the text on the top of the wheelhouse?
---
5 comments posted
Guy Davies
Joe, I like the treatment given to the water. It adds a painterly look to the image although there is a different texture in the areas close to the masts and cables. The light streaks to the right of the boat are attractive and add a bright, cheerful feeling. The boat is registered at Auray (the AY prefix before the number on the bow). I can't interpret the text on top of the wheelhouse, but perhaps it could simply be the name of the boat. &nbsp Posted: 10/02/2019 07:51:58
---
Thomas Wiemer
A nice development with the Topaz-Impression filter. The painted structure of the water and the lines of the sun rays in the water going well with the boat. I had exempted ( I hope this is the right word, otherwise please correct me) the other anchor rope also from the filter. In my opinion it ends a bit abruptly at the edge of the boat. &nbsp Posted: 10/05/2019 01:18:10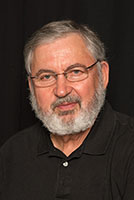 Isaac Vaisman M.D.
Thomas you can also use the word exclude from the effect &nbsp Posted: 10/08/2019 15:02:35
---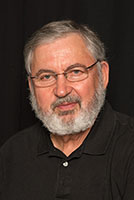 Isaac Vaisman M.D.
Joe, I am lost here. Your vantage point is low enough to be able to see some background, but we see only water. The painterly treatment to the water is not my favorite. I also note that the space between the main mast and the other poles looks kind of a smudge. The colors are nice and bright, and the image is sharp. &nbsp Posted: 10/08/2019 15:01:14
---
Ian Chantler
Hi Joe
I really like what you have done with this the treatment sits really well with the image I find it a really peaceful picture to look at and the colours really compliment one another great idea and very well executed &nbsp Posted: 10/09/2019 16:36:56
---
Please log in to post a comment