Joseph Hearst, FPSA, PPSA
---
August 2019 - Long escalator
About the Image(s)
This is one of the two sort of parallel escalators in the Umeda Sky Building in Osaka. It connects two parts of the building at the 40th floor and is 45 metres long. It is 150 metres above the ground. I used my Sony A 3000 and the 10-18 mm lens at 10 mm.


---
This round's discussion is now closed!
9 comments posted
Guy Davies
Joe, this is the sort of picture I would have taken if I had been there. The long line of the escalator and the hoop-like structure takes the viewer into the image and away up almost to infinity. It is good that you have held the roof line all the way up without obscuring the top at the end. There is, however, a rather disturbing aspect caused probably by wide-angle distortion. Looking closely you can see that the near steps slope to the right but the mid-ground and far steps slope to the left, causing a conflict in the viewer's mind. I can appreciate that there is very little time in this situation after getting on the escalator to see the picture, raise the camera, focus and get the shot, before being carried too far and the opportunity is gone. Consequently, I wondered if the distortion could be easily corrected in Photoshop. I used Edit>Transform>Distort and pulled the bottom left handle down, and the top left handle up. It took a little bit of experimentation but I think I got it about right. &nbsp
Posted: 08/08/2019 04:08:15
---
Joseph Hearst
Thanks. I think you're right

Joe &nbsp Posted: 08/08/2019 09:17:53
---
Ian Chantler
Hi Joe
This is so my sort of image love shapes in pictures and you have a myriad of varying shapes in this image lighting,composition and exposure are spot on normally an image like this needs a focal point to focus on at the end but this works without one I love Guys finishing touches to it. &nbsp Posted: 08/10/2019 14:14:28
---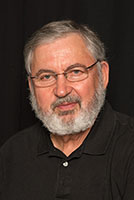 Isaac Vaisman M.D.
Joe, great image. Your vantage point was low enough to see the end of the tunnel. Sharp all the way. Guy did a great job fixing the distortions. &nbsp Posted: 08/11/2019 16:15:21
---
Bill Buchanan
Interesting perspective. I hope you took some from various angles. I'm not sold on the straight on look. I believe this could be shot at an angle to enhance the overall dynamics. &nbsp Posted: 08/13/2019 12:43:59
Joseph Hearst
The only way to shoot it from a different angle is to be able to levitate. &nbsp Posted: 08/13/2019 12:45:57
Guy Davies
I think the straight-on view is the best possible for this subject. It has great impact as a 'tunnel of infinity' which draws you in to be transported to another dimension! &nbsp Posted: 08/21/2019 09:05:11
---
Erik Rosengren
Another unusual image Joe, your artsy eye is a photographic blessing for you and the Study Club 4 members. The changes I would suggest have been covered by our elite members. &nbsp Posted: 08/20/2019 10:47:19
---
Thomas Wiemer

a nice perspective. I have the memory of the old movie" Time Tunnel" &nbsp Posted: 08/26/2019 06:11:02
---