Thomas Wiemer
---
August 2019 - Afraid
About the Image(s)
The picture was taken at the second weekend of July in Isernhagen, a little village near Lehrte. I was there to take pictures of a horse jumping competition, because until now I didn't made this.
In this picture I cloned the trees in the background to the left side, because there was a great bright place with the sky, which I found disturbing.
Have fun discovering the detail.



---
8 comments posted
Guy Davies
Thomas, this is an excellent action shot caught at exactly the right moment. The rider and horse are sharp against the out of focus background of trees. Your cloning of the trees on the left has been well done - I could not see any evidence of cloning. The image seems a little dark on my monitor and I wonder if you might try the Shadows/Highlights adjustment in Photoshop to brighten it up. I find this can be quite useful sometimes, followed by a Curves layer to restore contrast. &nbsp Posted: 08/08/2019 09:40:19
---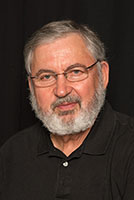 Isaac Vaisman M.D.
---
Joseph Hearst
Great action shot, and I love the way all four hooves are up and that they match the feet of the rider. The mouse is a perfect addition. Was it really there or did you clone it in? &nbsp Posted: 08/12/2019 13:35:11
---
Thomas Wiemer
The mouse was on our terrace:) &nbsp Posted: 08/12/2019 23:17:30
---
Bill Buchanan
Great job. I like to mouse too. It almost seems that the rider is looking at the mouse. Very clever and creative.. &nbsp Posted: 08/13/2019 12:54:41
---
Erik Rosengren
You captured the peak of the action Thomas, it is sharp where needed and subject is properly placed on your canvas. &nbsp Posted: 08/20/2019 11:12:47
---
Ian Chantler
Hi Thomas
What a great action shot and as already said it looks like the rider is looking straight at the mouse which is a brilliant addition.
There was a master carpenter in the U.K. called Robert Thompson who made mainly church furniture every piece he made he always carved a mouse on the finished piece and became known as the Mouseman he work now is very much sought after I think we may have found the new modern day mouseman not only a great image but a very amusing one as well. &nbsp Posted: 08/20/2019 16:51:03
Guy Davies
Robert 'Mouseman' Thompson lived and worked in the village of Kilburn, about 25 miles from where I live. He died in 1955. There are several examples of his work in our parish church. &nbsp Posted: 08/21/2019 09:15:00
---
Please log in to post a comment