Ian Chantler
---
August 2019 - Smile
About the Image(s)
The 21st of July saw me travelling over to Leeds to cover the Vamos Festival Vamos was 9 hours of South American live Music,dance culture and food I found out abut the Festival earlier this year when I did a photo shoot with Ana and Barbara from the Chilean group Mestissa they put me in contact with the organisers who said they already had photographers in place but would be delighted if I came and freelanced and let them see my work afterwards Vamos was 9 hours of fantastic Latin music wall to wall happy smiley fun people and some of the best Salsa dancers in the large crowd I had ever seen in my life the lady featured in this picture Helen and her dance partner Sergio were amazing I had the camera trained on her pre focused hoping she would turn her head to the right when she did I hit the shutter button and that smile just summed up the whole event Helen and Sergio have copies of the image and the organisers are keen to use this image for advertising for next years event so I may get a media pass next year heres hoping whether I do or I don't I shall be going.






How I did it
Camera Canon FOS 5D Mk III lens Canon EF24-105mm f/4L IS USM f4,ISO 200 1/640s RAW file adjusted in Photoshop for contrast highlights and shadows and cropped down from the top sharpened using a high pass filter and a 2 px stroke added.
---
This round's discussion is now closed!
17 comments posted
---
Erik Rosengren
I like the action story Ian. You used a shallow f stop so that the background was soft, you had the patience to wait until the lady looked your way and caught a good profile of her partner. The hand in the right foreground was a concern so I deleted it. The background bldgs. were canted so I hit Ctrl A Ctrl T then straitened the bldgs. verticals the best that I could, then used the paint brush with 5 pixels to soften bldg. glare. Last but not least, I used the Shadows slider in Camera Raw to darken the dancers exposed back and arm. I believe your fine image is stronger now, what do you think? &nbsp Posted: 08/04/2019 18:46:43
Ian Chantler
Hi Erik
I did do a much tighter crop for the 2 lovely people dancing but the organisers wanted the wider view but I will most certainly make adjustments as you recomended as always many thanks &nbsp Posted: 08/10/2019 13:02:48
Ian Chantler
Hi Erik
In case you dont spot it Alison from Group 40 has sent you a question about your editing on my image
Very best wishes Ian &nbsp Posted: 08/11/2019 08:30:19
---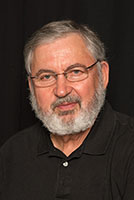 Isaac Vaisman M.D.
Ian, great "The moment it Clicks" capture. Erik read my mind, but he was more successful than me in straightening the verticals without amputating more hands, and his additional PP improved the image. Good out of focus background showing that everybody was having a good time with the rapid pace and bit of latin music (I can relate to that !!) &nbsp Posted: 08/05/2019 09:33:20
---
Guy Davies
It is definitely 'The Decisive Moment' and you have isolated the couple nicely by the use of a wide aperture. I think Erik's elimination of the hand at the RHS nicely removes a distraction. Straightening the white building in the background has also worked well, but I am puzzled as to why the white building is leaning but the dark one behind it is straight up.
Congratulations on having the image accepted for next year's advertising. &nbsp Posted: 08/09/2019 10:29:54
---
Alison McMahan

(Group 40)
Hi Erik Rosengren, I was about to comment on the canted buildings and I see you fixed it. Can you go into a little more detail about how you achieved that? I work on a Mac. Thanks in advance. &nbsp Posted: 08/11/2019 05:18:15
Ian Chantler
Hi Alison
In case Erik doesn't spot your question I have messaged him on your behalf so hopefully he will be back to you this is such a friendly and helpful Group
Ian &nbsp Posted: 08/11/2019 08:31:52
Alison McMahan

(Group 40)
Thank you Ian, I am grateful! I look forward to his answer.
&nbsp Posted: 08/11/2019 15:27:50
Erik Rosengren
Hi Allison,

I work with a P.C. To straiten a vertical or horizontal line, enter P.S. with the image that needs help. ctrl A then ctrl T. That will bring up marching ants then control points. Example-to level a horizon that is canted to the right, place your curser in the upper right corner then move the arrow up until it appears lever. If you need more help in fixing this problem, drag the horizontal line into the area to be straitened, then you will know exactly how high to move the mouse clicked on the upper right arrow so that the horizon will be perfect. &nbsp Posted: 08/17/2019 13:28:36
Alison McMahan

(Group 40)
Hi Erik,
I work with a Mac Book Pro so your steps didn't work for me. However the directions in this article did work for me. https://digital-photography-school.com/how-to-straighten-a-crooked-image-in-photoshop/
When I straightened the white building in the original, I found I had to crop some off the bottom in order to now have the "blank screen" effect on one side. I ended up cropping out people on both sides because they were distracting. I don't know how Bill managed to keep so much of her lower arm and their clasped hand. I like his better. This is what I got as I am trying to learn the technique. &nbsp
Posted: 08/17/2019 17:53:26
Guy Davies
---
Joseph Hearst
I love the way you captured the dancing couple but you also found great people in the background, like the little kid in the upper right. And the focus for the background is very good. &nbsp Posted: 08/12/2019 13:45:39
---
Bill Buchanan
I understand that the organize of the event prefer the overall view, however from a pictorial standpoint I personally prefer a tight cropped vertical view with some added edge darkening to reduce the bright background areas. The woman is the center of interest and her male companion is secondary. &nbsp
Posted: 08/13/2019 14:50:24
---
Brian Magor

(Group 23)
Hi Ian
Like both images. I think I'll put my camera away when it comes to our Club "People" competition. The two dancers at the front are definitely the centre of the image, but the sense of occasion is somewhat lost with Bill's tight crop. It might be tempted to make them stand out by leaving them in colour but turning the rest into mono or sepia. &nbsp Posted: 08/18/2019 12:07:31
Ian Chantler
Mr Magor you put your camera away over my dead body I did do a tighter crop which may see light of day in a comp sometime this year but the organisers naturally wanted the one showing the full schene just to warn you Brian there are more up my sleeve.
Take care see you soon. &nbsp Posted: 08/18/2019 12:51:55
---
Thomas Wiemer
a beautiful spontaneous scene with the smiling woman. The comments show what you can make with one picture but different points of view. &nbsp Posted: 08/26/2019 06:30:31
---