Ruth Sprain
---
March 2023 - Telluride Power Station B&W
Original
About the Image(s)
My photo is another view of the Telluride Power Station that I shared last month. This version was taken earlier in the day, but still has the challenging lighting of bright light on the mountain and shadows on the power station. Our photo club has a monochrome challenge this month, so I converted the image into black and white.

I used my Canon 7D at f/19, 1/60, at 50 mm.

In Lightroom and PhotoShop, I adjusted the exposure, highlights, and shadows of different parts of the photo with masks, dodging, and burning, then sharpened. Especially since several of you use monochrome a lot, I'd like some suggestions about editing for back and white images.
---
This round's discussion is now closed!
11 comments posted
---
---
---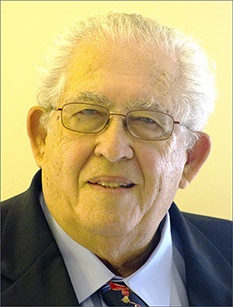 Stuart Caine

(Group 42)
A nice image, I feel since you went to Black and White. The removal of the yellow flowers and some od the trees above, leaves you some blank space on the top and bottom. I cropped off some from the top and bottom and the is what I came up with. But it is a nice image. &nbsp
Posted: 03/05/2023 11:14:10
Ruth Sprain
Stuart, thanks for visiting our group! I appreciate your comments about cropping. You're right that not as much of the top and bottom trees are needed when the image is in black and white. I'll have to consider how much of the background to keep, since the precarious cliff is part of the image that I wanted to capture. &nbsp Posted: 03/20/2023 12:25:28
---
---
---
Joan Field
Ruth,
I admire that you tried to turn this color image into a black and white. Unfortunately for me, it doesn't work because the outcome, almost no matter what, is way too busy. I tried a bunch of Black and Whites in Silver Efex Pro and none of then worked very well for me. Instead I took the color photos, which has a lot of potential and worked with that. I used a mask in Levels, darkening it overall, which really brought out the yellow in the trees.. I then darkened the very bright spot in the upper left with a black brush set at abou 10% opacity. I also used the dodge tool in Photoshop to lighten the waterfall slightly. Some images just don't do well in conversion to monochrome and I'm afraid this is one of the n, Cropping way in as Stuart suggest is a possibility. &nbsp
Posted: 03/06/2023 12:17:16
Ruth Sprain
Joan, you are correct that often simplicity works well for b&w images. That's why I darkened the details so much, in order that the eye goes to the white building and water. However, I too love the original fall colors of the original. Your version does justice to the beautiful autumn colors of that day. &nbsp Posted: 03/20/2023 12:34:54
---
---
---
Kieu-Hanh Vu
Hi Ruth,
I like the angle you captured this image. I see your intention to convert into B&W but I agree with Joan that the natural beauty of the scene you were experiencing was lost in the conversion: the yellow flowers, the rocks, the waterfall, and the willows.
I'd prefer to keep the color version and to darken the top part a bit more. Since the scene looks like a Japanese painting, I'd suggest to also add a painting effect to it.
&nbsp Posted: 03/07/2023 15:50:49
Ruth Sprain
Kieu-Hanh, thank you for your comments, especially about the angle of the shot. The location of the power station is so unique, at the top of a steep cliff. I kept the top left a bit bright to create a diagonal with the white building and water. But of course if it's too bright, it's distracting. &nbsp Posted: 03/20/2023 12:38:28
---
---
---
Mary Ann Carrasco
Hi Ruth, I really appreciate this image. The perspective from which it was taken, the colors, waterfall and lighting make it an interesting and beautiful scene. I do like the color version but I tried to take the challenge and play with the monochrome. I did edit it first in color before using Silver Efex Pro and picked a filter I liked. Then I played around with it using control points and then again with dodge and burn. I am not that masterful in editing but thought I would give it a try. Let me know if this works at all for you. &nbsp
Posted: 03/12/2023 18:10:51
Ruth Sprain
Mary Ann, thanks for your comments and suggestions. It is helpful to look at another version of b&w editing. I purposely lightened the building and water a lot to draw attention there. Additionally, I darkened the leaves (which are such an attention-getter in color) to keep them as part of the background. &nbsp Posted: 03/20/2023 12:42:51
---
---
---
LuAnn Thatcher
Hello Ruth,

I love your monochrome version of the Telluride Power Station. It is classic and tells a powerful story. It shows the dangerous terrain on the cliff's edge where the building is built. Cropping the photo only brings the house closer to the viewer's eye, removes the creative framing that the trees provide, and takes away the feeling of seclusion (being tucked away out of sight). Cropping also changes the perspective and scale of the small building built on a mountain.

Yes, the color version is beautiful, but those comments dismiss your "intent" for taking a photograph, which was to enter it into a "monochrome" competition.

Hope this feedback is helpful - good luck!

lt &nbsp Posted: 03/17/2023 10:03:58
Ruth Sprain
LuAnn, thank you for your insightful comments! You are correct that I was looking at this image differently because of my desire to use it in a monochrome competition. The scale was important as was the focus on the white building and waterfall (which I enhanced by lightening it). After reading the earlier comments, I thought "Oh, no. I chose the wrong image to convert to b&w for this competition." But surprise! My image got a "Best of Show" recognition. &nbsp Posted: 03/20/2023 12:31:31
LuAnn Thatcher
A best of show as it is shown in group 3? Excellent!!

It is beautiful, and I am glad you received recognition.

lt &nbsp Posted: 03/20/2023 13:08:34
---
---
---