Mary Ann Carrasco
---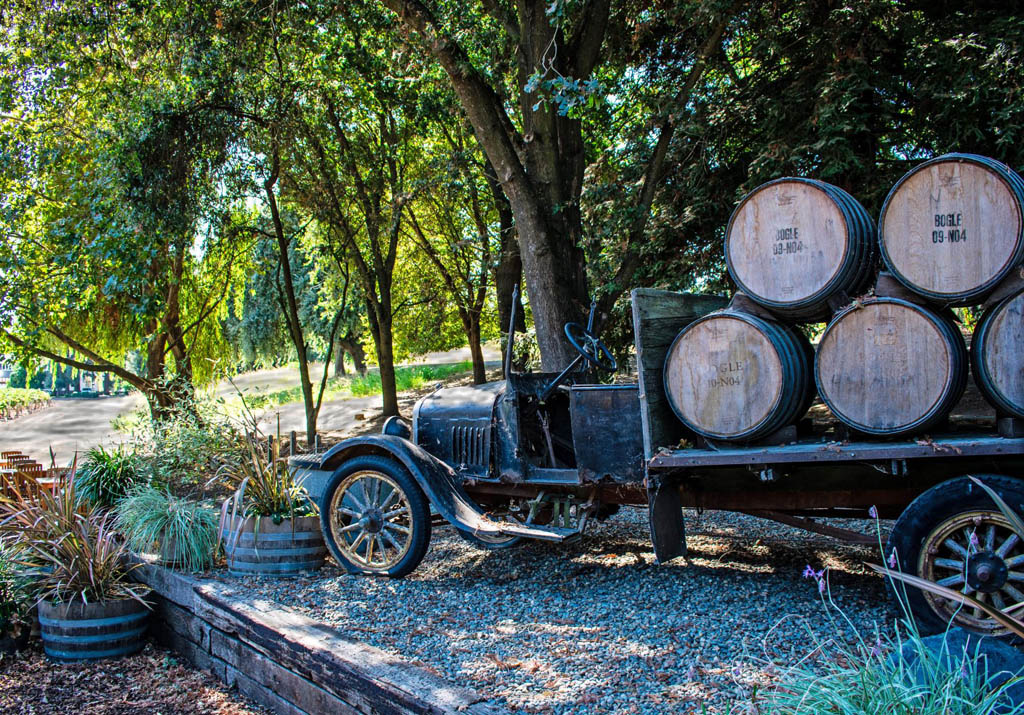 April 2021 - Old Truck with Wine Barrels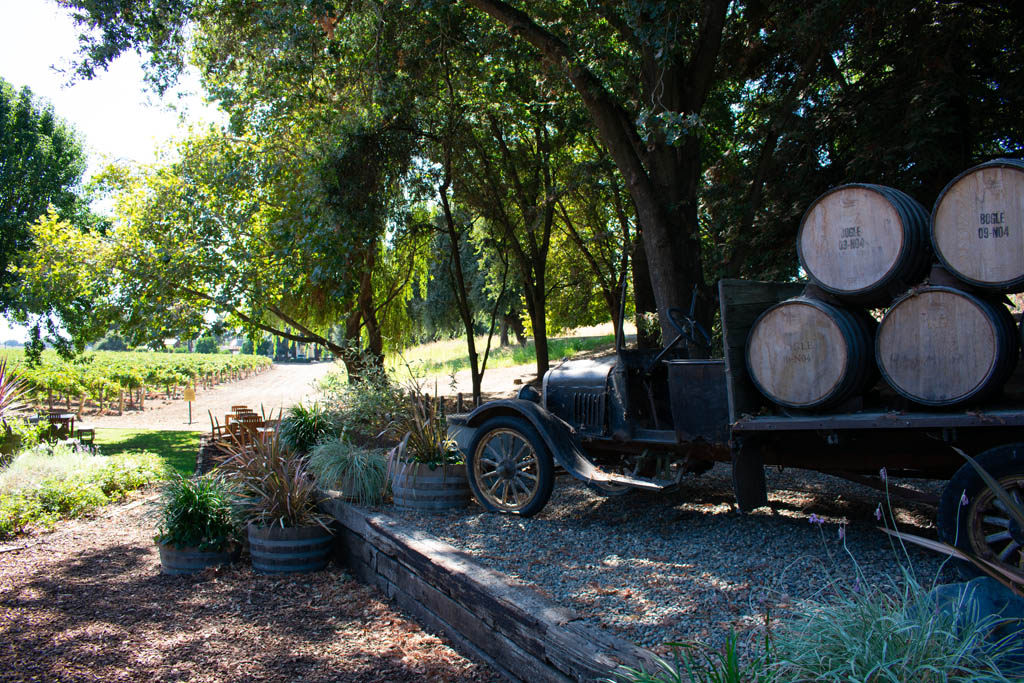 Original
About the Image(s)
I took this in 2019 for a class I take in digital photography. This was taken at Bogle Winery in the Sacramento Delta. My husband and I are also wine club members there! It is a family-run winery. I love the old truck there and this visit there were wine barrels loaded on the back. I also liked how the truck is facing in such a way as to look like it is about to take off on the road.

Camera Settings: I was still using the Nikon D3400 at this time The settings were 1/20; f/5.3; 18 mm and 100 ISO
---
8 comments posted
---
---
---
Michael Hrankowski
Hi Mary Ann. Old trucks make such fantastic subjects. This one has me imagining what life on the vineyard must have been like when this truck was in use. I picture the entire family pitching in to pick the grapes and make the wine. Your truck is in a beautiful setting but because it's in the shade, my eye is drawn to the light background and the truck doesn't stand out enough from the shadows. I took the liberty of doing a quick re-edit. I used adjustment brushes to decrease the exposure on the bright background and then brought up the exposure on the truck. Curious what you think. &nbsp
Posted: 04/03/2021 14:06:35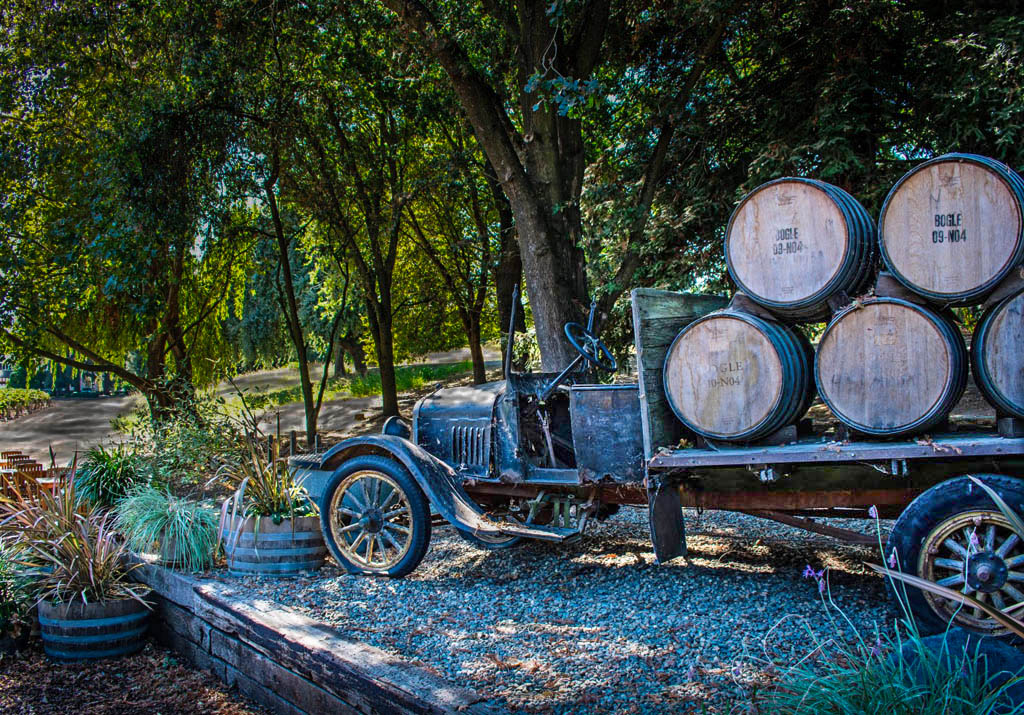 Mary Ann Carrasco
Thank you for your comments and your edit. It does take down the brightness in the background well. &nbsp Posted: 04/10/2021 16:30:29
---
---
---
Kieu-Hanh Vu
Mary Ann, Your post processing has brought out all the details of the truck. The composition also works well. I'd prefer to reduce the blue color of the grass in the foreground a bit since it seems over saturated. &nbsp Posted: 04/08/2021 15:12:11
Mary Ann Carrasco
Thank you, Kieu-Hanh. I will have to try to work with this photo again now that I have learned some better editing techniques since I too this. &nbsp Posted: 04/10/2021 16:36:33
---
---
---
LuAnn Thatcher
Hello Mary Ann,
I love this old truck and agree the direction it is facing is good; what a unique style with the barrels; it makes a great subject. I also see the photo aligns on a diagonal with an impact point on the wheel and the barrel's on the upper impact point. Photoshop, I believe, also has the diagonal overlay in the crop tool if you have not used it before. I have not heard of this winery. Do they have a primary vintage and style of wine that you would recommend?
When I look closely at this image, I sense it is a little soft, did you use a tripod? Nevertheless, I liked what you created and tried my hand at enhancing it a bit. I took the photo into Nik Color Efex and applied the Film Efex Vintage 01 Worn Edges effect. I like this effect as it makes use of the slightly soft focus to your advantage. The effect's settings were: Saturation -10, Warmth 67, vignette 65, grain 410, film strength 80, and film type 2.
I look forward to hearing what you think. It is a different style of edit, but that's ok.
Best regards,
LuAnn
&nbsp
Posted: 04/09/2021 15:09:26
Mary Ann Carrasco
Lu Ann,
Thank you for your comments and your edit. No, I did not have a tripod that day and not sure if I tried to lean into something to steady my hand at 1/20! Your edit makes it look very old fashioned! I bout the Nik suite so I will look for the Nik Color Efex as I have only used the black and white plug-in. Bogle wines seem to be sold almost everywhere we go...they were known for the petite syrah at one point but we like most everything of the reds. &nbsp Posted: 04/10/2021 16:35:08
Kieu-Hanh Vu
LuAnn, I like your edits very much! &nbsp Posted: 04/10/2021 22:13:48
---
---
---
Ruth Sprain
Mary Ann, the truck with the wine barrels has a lot of character, which makes your photo interesting. The position of the truck in the shade, while the road is so bright makes exposure a challenge. Your editing has improved that balance. I like the suggestions of both Michael and LuAnn on their editing. I wonder what a combination of both would look like ( to decrease the exposure on the bright background and then add the vintage look). &nbsp Posted: 04/14/2021 11:37:45
---
---
---
Please log in to post a comment