LuAnn Thatcher
---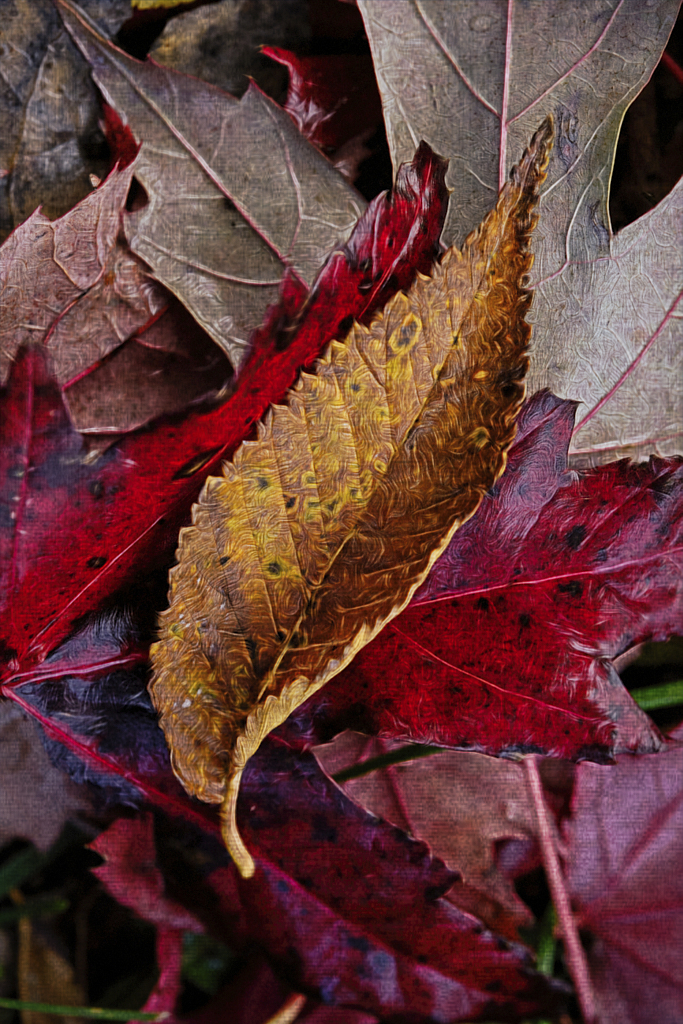 November 2020 - Fall Leaves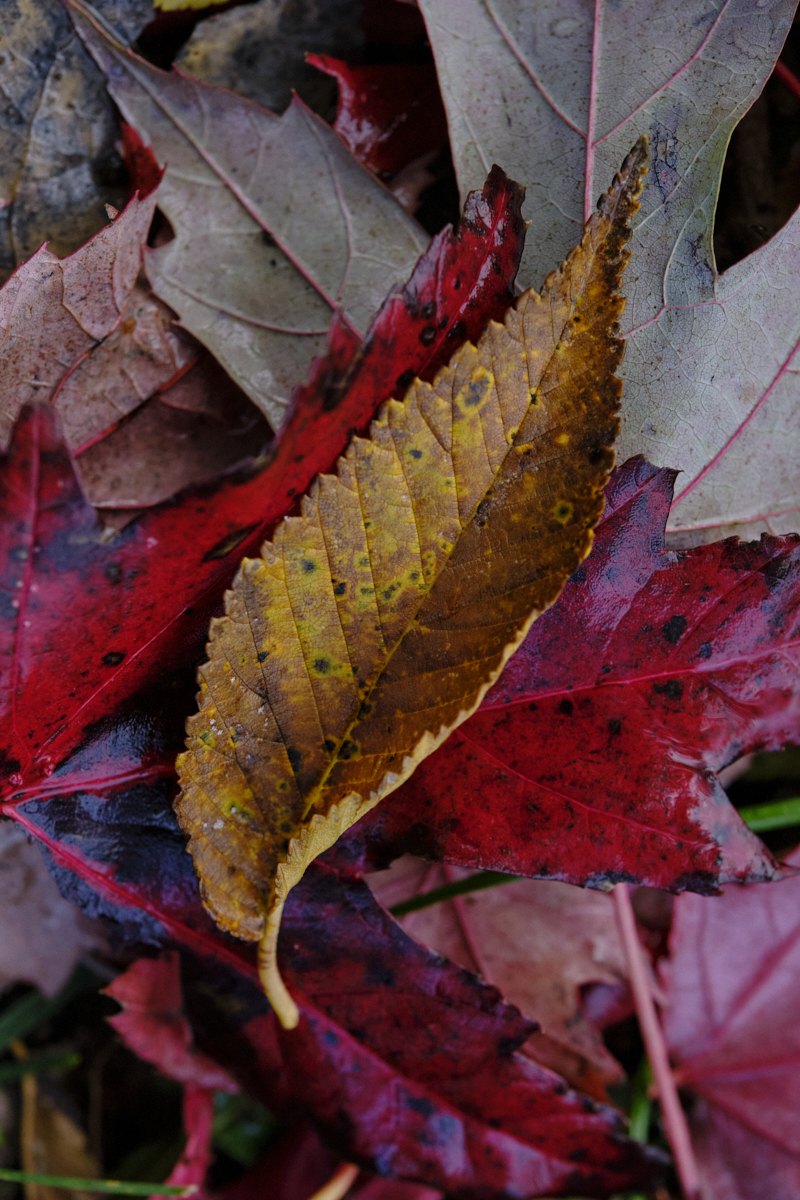 Original
About the Image(s)
I took this image for fall, hoping to find a creative way to portray ordinary fallen leaves. I am just getting into Topaz Studio 2 applications, and I am finding the software options they offer to be fun and easy to use. I watch lots of videos and find this to be a great way to spend my time indoors now that our temperatures have dropped below 25F.

I prefer a square crop but I was not able to upload a square crop due to sizing restrictions for the digital group.


Camera settings: Fuji X-T4, lens 80mm macro, ISO 1000, shutter 1/160s, aperture f/5.6, center-weighted average metering mode, no tripod. I captured image at 8:20 am.

In Topaz, I usually start with DeNoise in auto settings. Then it is experiment with presets till I find a combo that I like. I lean towards Impressionistic styles, textures, and overlays. I try not to get too far from realistic, but I like the character lines these presets gave the leaves themselves.
---
This round's discussion is now closed!
11 comments posted
---
---
---
Michael Hrankowski
LuAnn, I respond very strongly to color and this image is very appealing. Placing the yellow leaf in the center of the frame in a diagonal orientation draws the eye into the image and the red maple leaf below serves as a contrasting backdrop to further call attention to the main yellow leaf. Also creating interest and variation is the upside down gray maple leaf at the top of the frame... so I'm curious whether the leaves fell naturally this way, or whether you arranged them manually to create your composition? I'm also attracted to close-up detail in general and the image has plenty of that. Your subtle use of the Topaz effects, really enhance the image and add to the interest.

I, too, have really enjoyed playing around within Topaz Studio 2 and I will often create 3 or 4 versions of the original image, each with different moods. ...but one thing I struggle with is how much manipulation is too much having come from 30 years of doing mostly dental photography where any manipulation is strictly verboten. But...then I remind myself that now we are in the realm of art...so the sky's the limit! Overall, it's a lovely image and I wouldn't change a thing. &nbsp Posted: 11/03/2020 18:40:25
LuAnn Thatcher
Thank you, Micheal, for your thoughts and comments!
I started working more with Topaz within the last year or so. I really enjoy the creative side to photography mixed in with documentary genre. I don't have the ability to travel as many can and I live in a rural neighborhood so my options can be limited.

This fall photo was taken as I found it. I have been shooting with my macro lens for the last year consistently in an effort to get to understand how to use it more efficiently. I have learned some tips and tricks and now I feel more comfortable using a macro lens. I also like to shoot handheld and blur doesn't bother me. This winter I have some Lensbaby lenses that I want to experiment with so there is always something to do.

The original scene for this photo was pretty blase' so I experimented with Topaz. The software doesn't come easily I am finding; lots of experimenting and not every texture and style works with every photo. Yes, you are right you can over do the effects and color with Topaz or any software editing tool. But that is why we are in a study group is to get the opinion from fellow photographers.

Best regards,
LuAnn &nbsp Posted: 11/10/2020 05:00:34
---
---
---
Ruth Sprain
I like the vivid fall colors in your image, especially with the orangish yellow of the central leaf. The curving stem and diagonal vein of the center leaf allow my eye to move and explore the other leaves. The presets you used in Topaz 2 add pleasing texture. I find that the large maple leaf in the upper right is on the light side for me and draws my attention off the page to the right side. I'd prefer that the right side of that leaf be darker. &nbsp Posted: 11/08/2020 17:46:49
LuAnn Thatcher
Thank you, Ruth, for your comments. I will take a look at darkening the right side of the maple leaf as you suggested. The other thing I am noticing is the light. I could have used a diffuser to eliminate the glare from the sun, what do you think?

Best regards,
LuAnn &nbsp Posted: 11/10/2020 05:03:29
---
---
---
Kieu-Hanh Vu
I love the different colors of autumn leaves in this image. Usually, the red color is the strongest one but the details, the shape, and the diagonal position of the yellow leaf made it stand out.
I'd prefer to dodge the right hand side of the yellow leaf a tad because of the dark shadow on it. &nbsp Posted: 11/09/2020 16:16:30
LuAnn Thatcher
Thanks, Kiev-Hanh, for your comments. I like your idea to dodge the right side of the yellow leaf; excellent tip!

LuAnn &nbsp Posted: 11/10/2020 05:04:43
---
---
---
Lisa Cirincione
Great fall capture LuAnn... I love the colors, the diagonal. Keep the dark spots on the leaf, it gives the leaf depth. I would like the green lines to be darkened, they are just distracting enough to the fall colors. &nbsp Posted: 11/11/2020 13:49:15
LuAnn Thatcher
Good eyes, Lisa! I didn't see that.

LuAnn &nbsp Posted: 11/11/2020 13:57:42
---
---
---
Mary Ann Carrasco
I like the fall colors and the textures in this photograph. I also like the imperfections of the leaves. Very nice fall photograph. &nbsp Posted: 11/12/2020 15:47:20
LuAnn Thatcher
Thank you for your reply, Mary Ann! I miss fall. We just had a few inches of snow the other day. Now it will just continue to get cold.

How about you, what's your favorite season? I believe you live in California?

LuAnn &nbsp Posted: 11/12/2020 16:30:16
Mary Ann Carrasco
Yes, I live in Sacramento, California. My favorite season is fall too....I love the crisp cool air and the falling leaves. We don't get the drastic color changes here....I drove 2 hours a few weeks ago to capture fall colors in an area called Hope Valley near Lake Tahoe. It was beautiful. &nbsp Posted: 11/12/2020 17:04:41
---
---
---