Ruth Sprain
---
September 2020 - Mama & Baby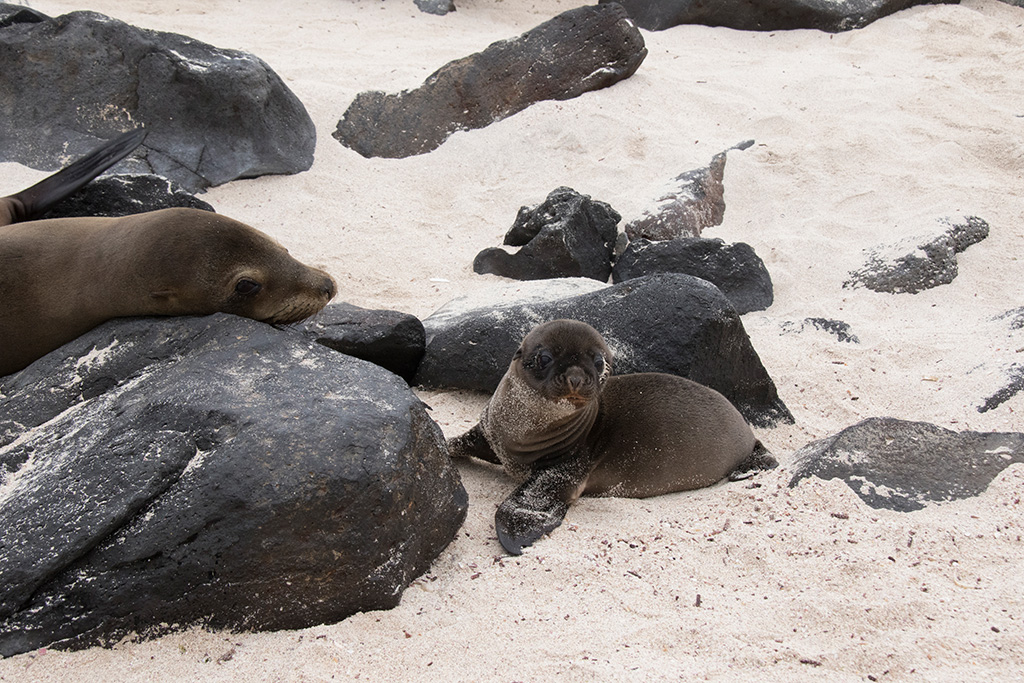 Original
About the Image(s)
I took this photo in the Galapagos Islands in the fall of 2018.

Mother sea lions lay with their pups on the sand, resting after fishing for food. This particular pup was alert and interested in some of his mother's attention.

The photo was taken with my Canon 7D Mark II at f-11, 1/350.

In PhotoShop, I used the Daylight setting for color balance, cropped, saturated slightly, dodged and burned, added a slight vignette, and sharpened. I tried to enhance the sea lions' eyes while keeping a natural look.
---
5 comments posted
---
---
---
Mary Ann Carrasco
You have captured the look on the pup and the fondness of the mother looking on. I wonder if cropping a bit more to take out some of the sand on the top may draw the viewers eye more towards the pup. &nbsp Posted: 09/03/2020 19:42:56
---
---
---
Ruth Sprain
I could probably crop a bit tighter on the top. However, I didn't want to cut off the flipper of the mother seal. &nbsp Posted: 09/03/2020 22:16:48
Ruth Sprain
Mary Ann Carrasco
I like this very much! I think it really brings out the pup and the mother's gaze on her young! &nbsp Posted: 09/13/2020 14:57:55
---
---
---
LuAnn Thatcher
What an opportunity to go to the Galapagos Islands!

I like your image, Ruth. I find the flow from mother to pup works nicely. You have their eyes in view and the pup's attention, very natural scene. I have to chuckle at what appears to be a neckerchief on the pup! You didn't include all your camera settings, how far from the two were you (focal length)? What lens did you use? What was your ISO? Did you shoot handheld?

I know you like natural photographs for competitions. I tried a few different options, but I think your tones in the animals are more to your liking. I tried to darken the sand a bit, but then I lost the nature photography look. If the image is sharpened anymore, the white sand behind the pup's head on the rock blows out. I think your second crop works nicely.

On a side note, did you capture any shots from a lower to the ground perspective? I know nature judges like the direct sightline view sometimes more than from a higher perspective.

How was your trip to the Galapagos Islands? Did you do a photography tour? My husband just said he was interested in this location for a trip. I'd love to hear about your adventure.

Best regards,
LuAnn &nbsp Posted: 09/12/2020 15:24:35
---
---
---
Please log in to post a comment