LuAnn Thatcher
---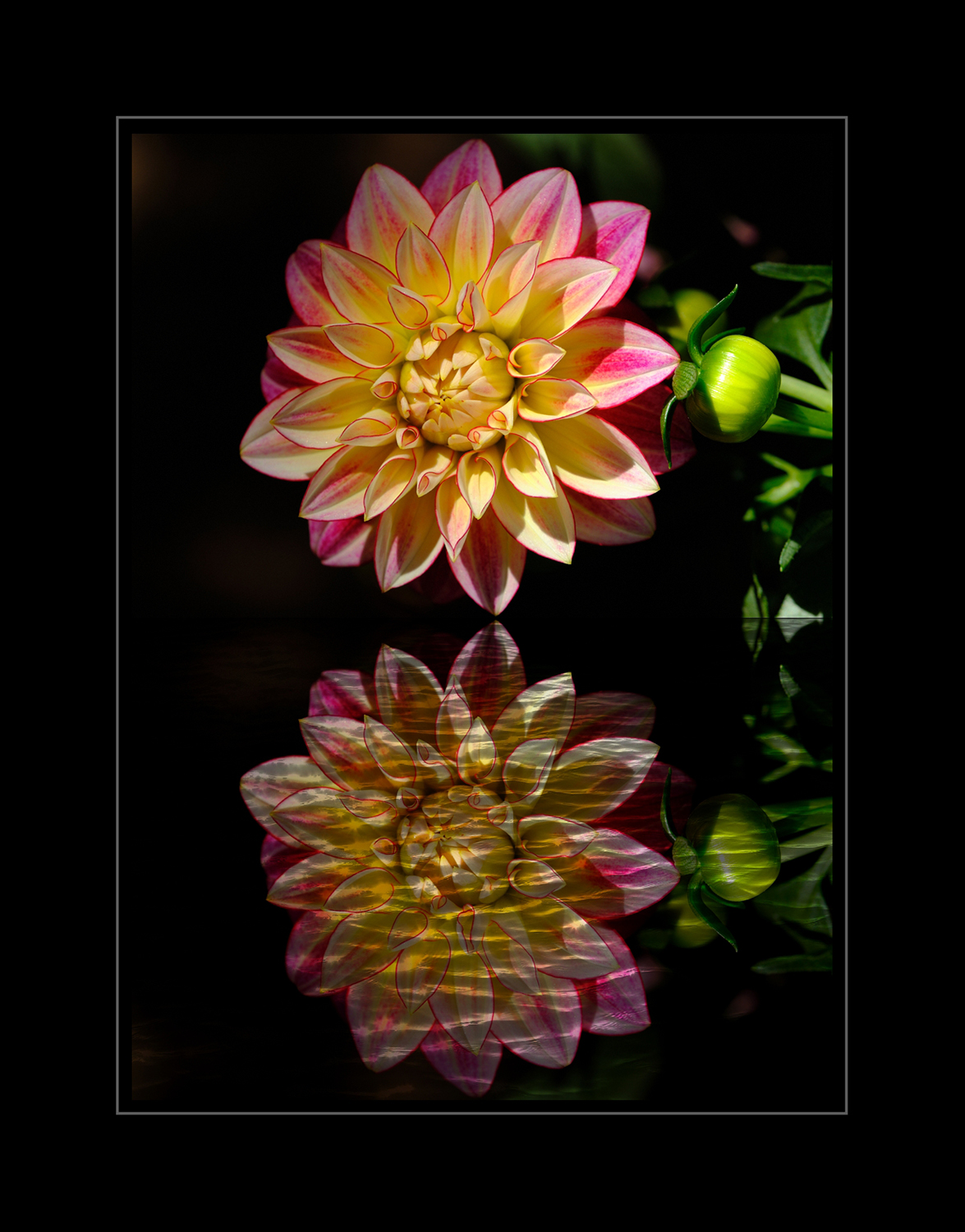 June 2020 - Reflection
Original
About the Image(s)
I have been fascinated with macro photography lately. I have also been experimenting with textures, overlays, and adding a finished look with a simple border. This image has a water reflection added. My goal with this image is to put an artistic touch on a simple flower.

Camera is Fuji XT2, ISO 200, f/10, ss 1/160, with a 1.4 teleconverter. The lens is Fuji 80mm macro focal length is 112mm. I shot this photo outdoors.

I look forward to hearing what you think about this effect and if you have ever tried overlays and textures.

Have a great day, my friends!
---
This round's discussion is now closed!
13 comments posted
Ruth Sprain
I like the colors and slight angle of the blossom. Using a black background sets off the vivid colors of the flower. How fun that you've experimented with macros, textures, and overlays. For me, the water texture and coloring of the flower is too regular to look realistic. Perhaps blurring the reflection in spots or darkening part of the reflection would make it look more realistic and therefore more pleasing as a scene.

No, I haven't used textured overlays. However, you know from last month's photo that I have experimented with composites using textures. They are fun to try out for effect. &nbsp Posted: 06/07/2020 16:01:10
LuAnn Thatcher
Hi Ruth,

Thanks for the comment! I did not mention it in my description but I am experimenting with altered reality so that is why the reflection doesn't look real.

help me out, can you further explain what you mean by "flower is too regular to look realistic?" This is good feedback for me.

Look forward to your reply.

LuAnn &nbsp Posted: 06/07/2020 18:30:01
Ruth Sprain
LuAnn, if your intent was an altered realism look, then I think you've been successful. My comment was just that the reflected flower didn't look realistic to me because the water lines were so regularly spaced. However, that wasn't your intention. &nbsp Posted: 06/08/2020 11:26:28
LuAnn Thatcher
Your comment was perfect, Ruth. It gives me things to look for when I figure out this type of photography.

Thanks for the help,
LuAnn &nbsp Posted: 06/08/2020 14:47:58
---
Mark Laussade

(Group 5)
LuAnn,
I think that this image succeeds in all important aspects. The use of color and light is perfect, in my opinion. I love the use of a darkened background to really make the subject pop. The creative ideas are well executed giving the image increased impact. It's hard not to stare at this image and try to figure out how it was made. Mission accomplished. &nbsp Posted: 06/13/2020 12:38:56
LuAnn Thatcher
Thank you, Mark, for the visit and your comments! I am simply experimenting with other options from the standard we all do. Variety is the spice of life sometimes.

Have a great day, my friend!
LuAnn &nbsp Posted: 06/15/2020 09:28:46
---
Randolph Shine
I agree that you did accomplish making the photo artistic and different. It seem to me the reflection of the flower is that it is under the water and not a reflection on the surface of the water as a normal reflection. Interesting. &nbsp Posted: 06/16/2020 09:50:21
---
Kieu-Hanh Vu
The dahlia is beautiful and sharp. Since you want to create a water reflection, I'd prefer to make the reflection layer overlap 1/3 of the flower to make it more realistic. Also, remove the green stem could make your flower stand out. &nbsp Posted: 06/18/2020 10:51:54
LuAnn Thatcher
Thank you, Kieu-Hanh, for your thoughts. Altered reality (or creative alteration as some say) is not everyone's cup of tea but that is why I am curious about doing it. I love change and believe nothing ventured nothing gained.

Have you ever used overlays? Perhaps this image needs a textured overlay to further it creatively, what do you think?

Best regards,
LuAnn

&nbsp Posted: 06/23/2020 06:44:22
---
Mary Sue Rosenthal
Unfortunately, I have done very little altered reality photography. So, there is very little I can add here. My taste leans more to reality then not.
&nbsp Posted: 06/24/2020 10:32:03
LuAnn Thatcher
It is ok, Mary Sue, if this image is not of your taste, I understand.

PSA Digital study groups do include this genre, and they call it Creative, also known as Altered Reality. When you have time, check these study groups out on this website to get a feel for what others are doing in PSA Digital groups (group 18, 20, 21, 34, and 41).

This genre is new to me also.

Have a nice day,
LuAnn

&nbsp Posted: 06/24/2020 11:43:57
---
Lisa Cirincione
Very well done photo, the original flower is beautiful and colorful. I like the mm of space between the flower and the altered reflection. I agree with Ruth, the reflection should be maybe less saturated or maybe less textured if you are trying for reality. But as altered reality, I'd like to see it turned horizontal... really alter the reality. &nbsp
Posted: 06/30/2020 18:10:57
LuAnn Thatcher
Thanks, Lisa, for your edit!! I really like how you envisioned this image to a horizontal versus vertical perspective. I am glad you had time to post this edit I really like it!

Best regards,
LuAnn &nbsp Posted: 06/30/2020 20:34:39
---