Ruth Sprain
---
June 2020 - Tea Party Dress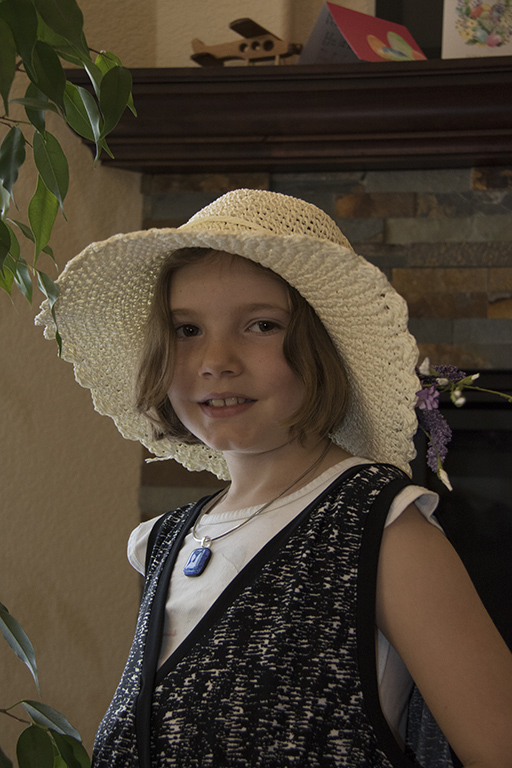 Original
About the Image(s)
Several weeks ago our grandchildren enjoyed a tea party with us dressed in Nana and Papa's clothes, hats, and jewelry. Afterward, I took this photo of my oldest granddaughter. I liked her Mona Lisa type smile and the special memories it held about the tea party. It was taken with my Canon EOS 7D at 1/60, f 5.6. I adjusted the shadows and highlights, cropped, dodged, and burned a bit, and used a lighting effect to brighten her face.

Camera settings: Canon EOS 7D at 1/60, f 5.6
---
This round's discussion is now closed!
6 comments posted
LuAnn Thatcher
Hi Ruth,
Your granddaughter is beautiful, and your photograph came out great! Your image is well composed, and you selected a nice complimentary background.
The only thing I would suggest is to watch for things that overlap your subject. As an example, the leaf on her hat. The green leaf is in front of her hat, causing a small but noticeable distraction. That is just being picky, but tiny details are essential.
I like the plant next to her as it contributes to the story of being in a homey environment. Her skin tone shows the image was taken in natural light. You could use a radial filter to brighten her face a tiny bit. Double-check your white balance to make sure you have that in check as well.
In my sample image, I just added sharpening in Topaz Sharpen.
Best regards,
LuAnn &nbsp
Posted: 06/10/2020 11:40:33
---
Randolph Shine
Beautiful. The skin tone is right on and the eye locks on her face. Well done. &nbsp Posted: 06/16/2020 09:54:38
LuAnn Thatcher
You are right, Randy, this is a great image.

But what could you suggest for her to enhance it even more?

Do the leaves in front of her hat bring tension into the image for you?

What about the brightness level in the background, do you see it being too bright?

What about a tighter crop? Does anyone think this would enhance the image?

Best regards,
LuAnn
&nbsp Posted: 06/23/2020 06:17:04
---
Kieu-Hanh Vu
Nice portrait! Your granddaughter's clothes and her smile are natural. The lighting is good that eliminates the shadows on her face. I'd prefer to remove a leaf that goes into her hat. Did you use an external flash to capture this photo because there are two catchlights in her eyes?



&nbsp Posted: 06/23/2020 08:50:53
---
Mary Sue Rosenthal
Nice Portrait. I love her positions. I would remove the leaf and purple flowers from her hat. I find them both distracting. I would also lighten up her face a little more to really pull in portrait. She is a beautiful young lady and that is where you really want to focus your attention. &nbsp Posted: 06/24/2020 10:01:06
---
Lisa Cirincione
Nice portrait, beautiful granddaughter. But to me, this is very busy... the mantle, the green flowers, the purple flowers in the hat, the blue necklace... there is a lot going on. Maybe for this image crop out the mantle, and possibly clone out the upper green leaves in front of her hat? easier said that done &nbsp Posted: 06/30/2020 18:25:53
---