Ruth Sprain
---
May 2020 - Into the Depths
About the Image(s)
The last few weeks with "stay at home" orders have given me time to take photos around our house. As an extension of last month's "mysterious man" photo, I took some images of my husband on the stairs and used a long exposure for the first original. A second original allowed a ghost image of a more exact man's head. The third original of windshield glass on a junkyard car was added to the composite image to blur the edges of the image to make them more mysterious. The original image was taken on a tripod with an 8-second exposure at f 22. What thoughts do you have to improve the image or make it more mysterious?
---
This round's discussion is now closed!
12 comments posted
Fatih Gönül
Hi Ruth,
Your work is nice and I've really liked the motionlessness. However, I feel discomfort with the iced background. It looks like doesn't fit the mystery of the photo. And also at the upper side, the gap over the head of the man looks like short. A little more may be more impressive. But generally, the photo have impressed me. &nbsp Posted: 05/02/2020 15:57:33
Ruth Sprain
Thanks for your comments, Fatih. I agree that more space above the man's head would keep things more in balance. I'll have to consider what other backgrounds I have to use instead of the sun altered windshield that might work better on the sides. &nbsp Posted: 05/08/2020 09:48:50
---
Randolph Shine
I agree with Ruth. It is an impressive work. The idea of adding something to make it more mysterious is good. But the windshield does not work for me. The man was walking down a stair way in doors. How/why the tree branches? They distracted from the scene. &nbsp Posted: 05/11/2020 14:34:55
Ruth Sprain
Thanks for your comments, Randy. See what you think of my revised image further down. Do you like the other background better? &nbsp Posted: 05/24/2020 14:53:00
---
LuAnn Thatcher
Hi Ruth,
You are off to a good start! Your story of the man walking down the stairway is interesting. When I look at your photo, it makes me think of an old film movie about a man in a hotel. I also see the handrail as a valuable element to this story.
I agree with Randy; the windshield glass isn't working. Nor is the white molding on the landing area at the foot of the stairs and the modern texture of the carpet; the carpet is at the forefront of the frame, and the first thing you see entering.
In my opinion, the way to add mystery to a photograph is through dark shadows. Control your lighting and have it in only the essential areas that contribute to your story. My suggestion is to look for an old film, grungy, graphic, or pencil-type textures instead of the windshield glass because it doesn't seem to go with the scene. Then I suggest changing the color or darkening the white baseboard molding because it is drawing my eye to that part of the frame; it doesn't add to the mystery. If you put a texture on the carpeting that would help age the scene you photographed.
Lastly, I did a quick edit with old film-like texture. It is just a suggestion to help you. I hope you persevere with finding your vision for mystery in photography.
There is still time this month to submit another image! You can do it, Ruth!!
Best regards,
LuAnn
&nbsp
Posted: 05/14/2020 11:04:27
Ruth Sprain
Thanks for your comments.
A number of you didn't like the altered glass background, so I tried a version with a different background. It's dark clouds which I darkened and used with about 50% opacity on the sides. Some of you didn't like the white molding either, so I tried doing a content aware cloning to hide the line of the molding. Since the photo was taken at my house, I'm okay with leaving the carpet as it is. Do you like this version any better? &nbsp
Posted: 05/24/2020 14:37:13
---
LuAnn Thatcher
Here is another suggestion, Ruth, this I did quickly in Nik Analog. There are so many ways to be creative one could spend days trying all the possibilities. I believe you will find the key to creating mystery in your images is in directing and controlling the light. Whether you like film grain or scratches on your images, these elements are all subjective and personal choices only the artist in you can make.
One of my favorite artists for mysterious black and white photography is Olga Karlovac. I have two of her books. She will often use things over her lens like nylon or thin fabric to distort what she shoots. She also frequently distorts the person's face and body shape, so they only look like a human, but the details (hands, faces, ears, eyes) are obscured.
Check out her website: olga-karlovac-photography.com
I am looking forward to your comments; I know you can do this.
LuAnn &nbsp
Posted: 05/19/2020 11:11:34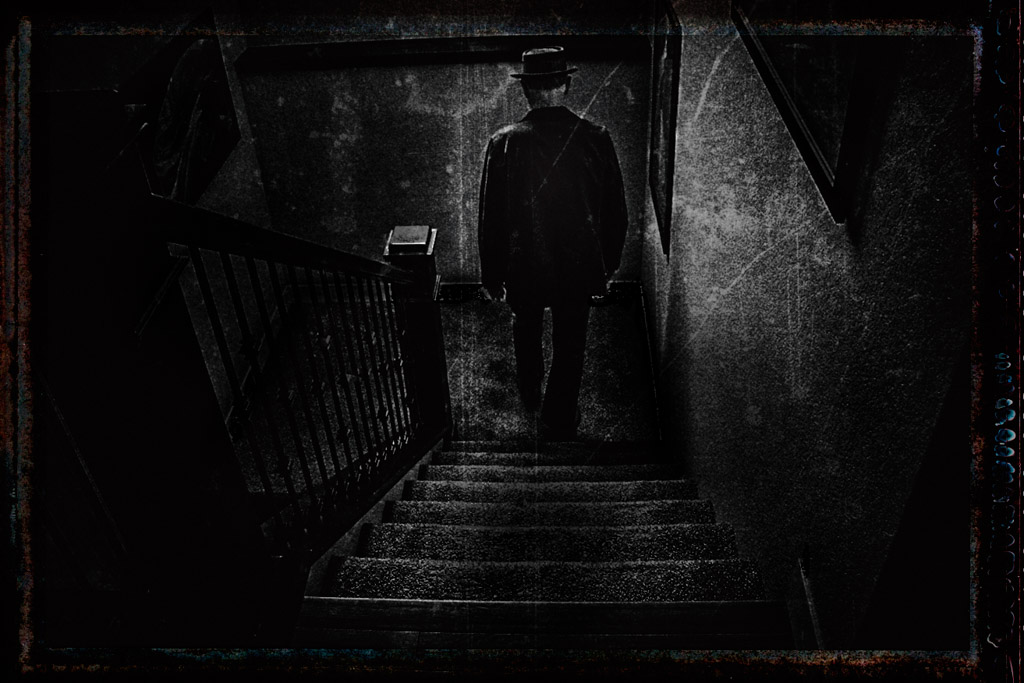 Ruth Sprain
I looked at some of Olga Karlovac's images and can see why you thought of her when discussing mysterious images. I do like some of her photos with their long exposures. We've had several presenters for club meetings that also use long exposures, so I'm familiar with the process.

Thank you for your suggestions for using filters to make my image more mysterious. They are interesting. I'm a little concerned about making the image too dark, since it already has a lot of blacks and deep grays. &nbsp Posted: 05/24/2020 14:44:55
---
Kieu-Hanh Vu
Hats off to your creativity, Ruth! You have used a regular image and turned it into a mystique scene. The windshield glass works fine for me, but I'd prefer to extend it more to cover some handrails on the left and the first landing on the bottom of the image. The landing seems too clean compared to the snow-covered (carpeted) following treads. Also, I think that your husband's long coat (as in your image last month) would be better fit in this scene. His outfit does not match well with the frozen scene. Overall, nice work! &nbsp Posted: 05/21/2020 08:05:03
Ruth Sprain
I'm interested that you preferred my husband's long coat better for this shot. He was wearing the old jacket shown in the image when I asked him to be my model, and he didn't want to change it. He thought an inside stairway would warrant an inside jacket. I didn't question my model's taste. :) &nbsp Posted: 05/24/2020 14:50:11
---
Lisa Cirincione
Wow! That was my first thought, lol. You have the makings of a great series of mysterious works! Keep it going, make 10-20 and frame them! That would make a great exhibit!
I agree that the crown molding at the bottom of the staircase and the carpeting is too distracting... darker shadows work better. I like how you used content-aware to get rid of the molding. And darken the carpet, you don't want to know he's in your house! Lol &nbsp Posted: 05/25/2020 09:09:17
---
Mary Sue Rosenthal
I love your creativity. You got a lot to work with here. Not sure there is anything else to say. &nbsp Posted: 05/27/2020 13:05:30
---