Cheryl Pauley
---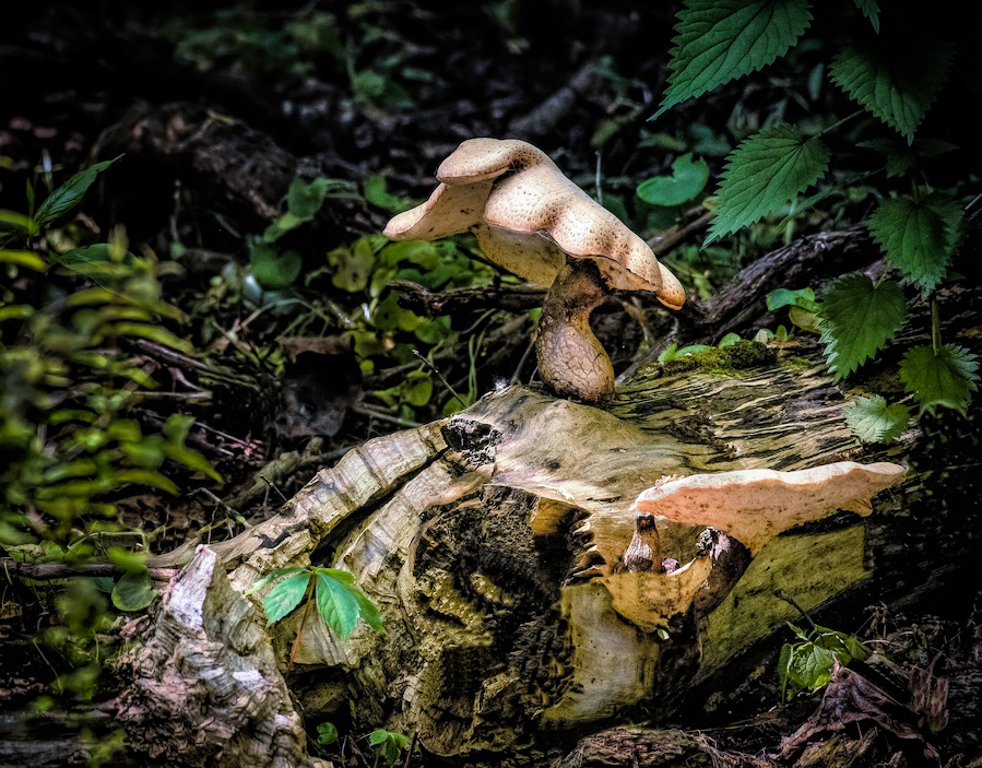 October 2019 - Chesterbrook Trails mushrooms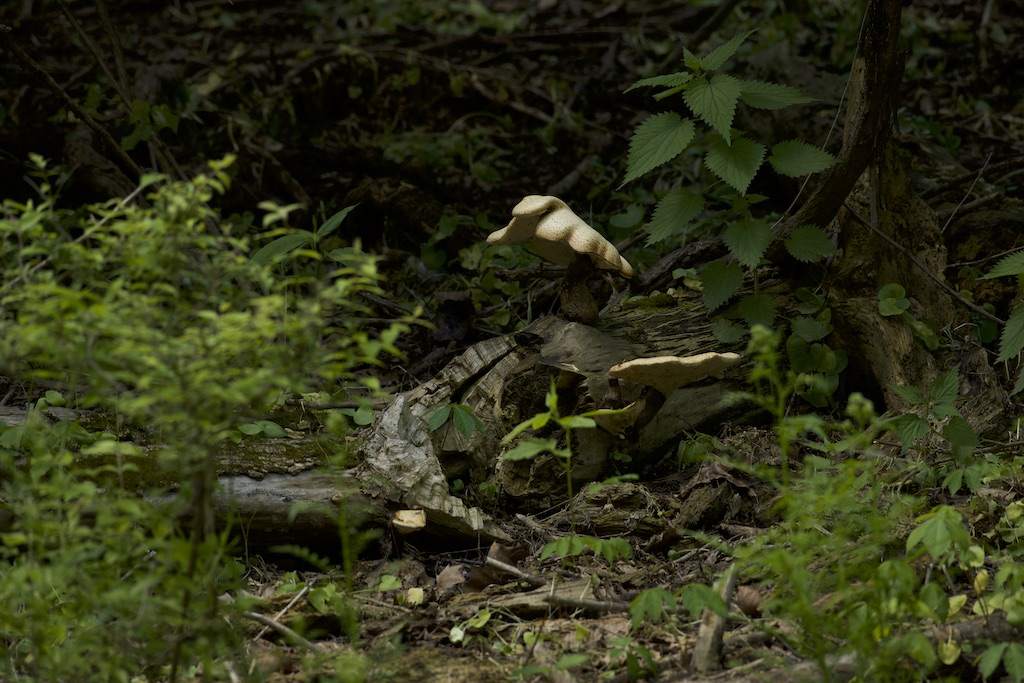 Original
About the Image(s)
Nikon D810 camera, Nikon 200-500mm lens, 1/400 sec, f8, 480mm, ISO 500

We had a very rainy spring this year in Eastern PA. In mid-May While walking one of my favorite neighborhood trails, I was delighted to see giant mushrooms growing in several places. I scurried back home, grabbed my camera and tripod and got this shot while the sun still provided some light and before it started raining again. The two mushrooms pictured here were on a sizable fallen tree and were over a foot tall. To me the top mushroom looked like a human hand, and I find things that take on human form very interesting to photograph.

In LR I lightened the image overall, used the spot removal tool to remove a couple of weeds, brought up the colors and lightened parts of the mushrooms and tree trunk as well as bringing out those textures. I added a dark vignette to obscure some of the surrounding brush and to add mood. Since I did this several months ago, I'm sure there were other steps I took to get the final image and I no doubt did some additional editing in PS, especially removing the weeds.

---
11 comments posted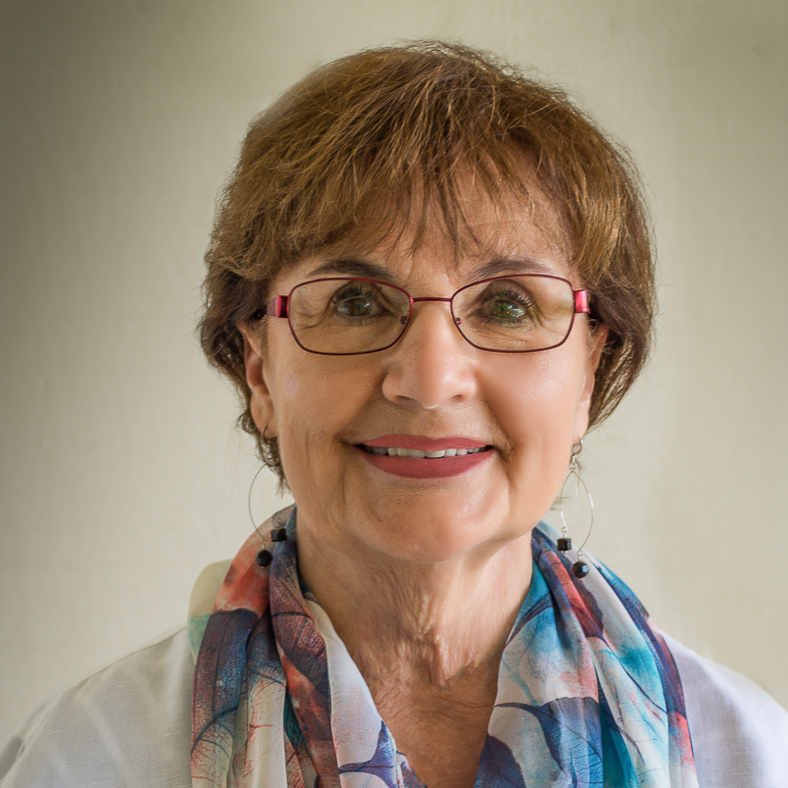 Shirley Pohlman
Welcome to our group, Cheryl. I love mushrooms, and I certainly agree that the large one looks like a hand. In my opinion you have placed it at the sweet spot for the main focal point with the upper right leaves having a nice contrast. The angle of the log leads me right into the image, and your editing on that, I think, has made it pop. My eyes want to momentarily stop at the leaves coming out of the crack, and I would suggest "pulling" that group out. I feel that the brush on the left side are a little distracting, and perhaps you can use software to blur them. I think that will give more emphasis to the mushroom, which deserves a big applause! &nbsp Posted: 10/04/2019 21:57:12
Cheryl Pauley
Hi Shirley, Thanks for the welcome and your comments. I agree and wondered if I shouldn't have pulled the leaf out of the log. ;-) I did darken the leaves on the left side but they could be darker. I like to enter photos in my camera club's competitions after I've had them in my PSA group because I always get lots of helpful comments! &nbsp Posted: 10/04/2019 22:30:54
---
Laurie Meriwether
Welcome to the group! I've never seen a mushroom that big. And it does look like a hand. I think your edits on this were really good. &nbsp Posted: 10/05/2019 13:21:40
Cheryl Pauley
Thank you Laurie! &nbsp Posted: 10/07/2019 22:37:50
---
Brenda Monahan
Welcome to the group, Cheryl!

This is a very cool image. The colors are vibrant. The mushroom looks like a creature of some sort. I would consider cropping the leaves on the left. &nbsp Posted: 10/05/2019 14:02:41
Cheryl Pauley
Hi Brenda, I struggled with keeping the mushroom out of the center of the photo. I agree that the leaves on the left are a problem and perhaps I should either crop the entire photo or apply more vignette as Harry suggested. Thanks for your thoughts! &nbsp Posted: 10/07/2019 22:40:02
---
Harry M. Stuart
Cheryl Pauley
Harry, Thanks for your thoughts on my image. I was totally amazed when I found these. I agree that more needs to be done to eliminate elements that detract from the mushrooms. &nbsp Posted: 10/07/2019 22:42:24
---
Cheryl Pauley
I like to have input before I enter photos in my camera club competition. I really appreciate everyone's comments. &nbsp Posted: 10/07/2019 22:43:32
---
Piers Blackett
Congrats on a great image of a challenging subject. I like Harry's vignette which gives it more character. &nbsp Posted: 10/09/2019 11:07:51
---

Hung Phan
Welcome to our group.I have occasion to learn from your nice picture.I love abstract,so I can see some interesting from your picture.A nice picture.Thanks. &nbsp Posted: 10/16/2019 22:52:38
---
Please log in to post a comment